PlayStation Plus Update News: PS Plus members in North America finally get some free games for May that their European counterparts have had for months.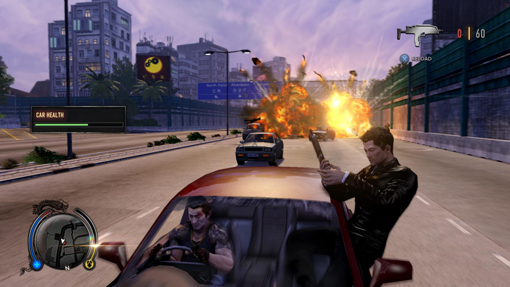 PlayStation Plus has quite a few free games to offer North American members during the month of May as well as some titles leaving the Instant Game Collection. On offer this month for PlayStation Plus members is Sleeping Dogs, Knytt Underground, Germinator, BlazBlue: Continuum Shift Extend and Pinball Arcade. In case you aren't familiar with any of these games a brief description is below:



Sleeping Dogs - Welcome to Hong Kong, a vibrant city whose exotic locations hide one of the most powerful and dangerous criminal organizations in the world: the Triads. You play Wei Shen, an undercover cop trying to take down the Triads from the inside. Heralded on several Game of the Year lists, this version of Sleeping Dogs comes with not only the full game, but also three premium DLC packs, including the Retro Triad Pack, the Red Envelope Pack and the Street Racer Pack.


Knytt Underground - With an array of thrilling quests, unique zen-like gameplay and plenty of dynamic characters to meet and guide you on your adventure - Knytt Underground delivers a captivating and unparalleled experience. Download and begin your journey to ring the six bells of fate and save this vibrant and enchanted underground world before it's too late.


Germinator - Germinator twists the bubble genre, wiping away old school match-three games. Crash germ bubbles into those of the same color. Combine and grow them until they explode in a splattering goop. Trigger power-ups to pop them all and mess up the screen. Timing and accuracy are the keys to solving puzzles and preventing the germs from rising too high. It's a great title for all ages, and will be downloadable free in PlayStation Plus later this month.


BlazBlue: Continuum Shift Extend - BlazBlue: Continuum Shift EXTEND is the definitive version of the Continuum Shift series, which includes character balance tweaks, a new character, Relius Clover, story modes for all previous three DLC characters: Platinum, Makoto, Valkenhayn, new modes, and improved online multiplayer! Watch for it later this month.


Pinball Arcade - It's pinball action on the go with Pinball Arcade on PS Vita. You'll find great pinball tables like Tales of the Arabian Nights, Ripley's Believe It or Not, Theatre of Magic, and Black Hole available from within the game. There are other tables available to download if you're looking to augment your Pinball Arcade experience.

In addition to those games coming in the month of May there are also games leaving the Instant Game Collection. The following game will be leaving in the month of May:


Demon's Souls - May 7

Mega Man 9 & 10 Combo Pack - May 14

Tekken 6 PSP - May 21

Darksiders - May 21

Zombie Tycoon 2 - May 28

Which free PlayStation Plus games are you looking forward to the most in the month of May?