News: Class of Heroes 2 makes its way to North America on PSP and Vita with significant tweaks over the original Japanese release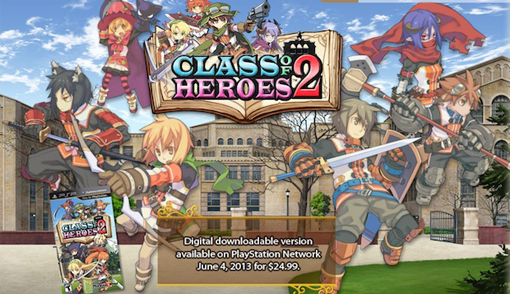 Class of Heroes 2 is now available on the PlayStation Network for both the PSP and the PS Vita. The newly localized digital release was originally developed by ZeroDiv of Japan, renowned for their expertise in creating dungeon crawlers, and published by Acquire Corp. This enhanced portable version is the first time the game has been fully translated and boasts significant gameplay tweaks over the original Japanese release.

Class of Heroes 2 will feature numerous hours of strategic gameplay making the fine tuned J-RPG a deep experience with rich replay value. The portable title will also please fans of dungeon crawlers with plenty of addicting J-RPG content:


96 challenging quests


125+ dungeon maps


10 races


18 unique classes


hundreds of equipment and skill combinations for beefing up soon-to-be hero students


Class of Heroes 2 is a charming take on the Wizardry-style dungeon crawl games, but with a twist - all the party members are drawn from a pool of newly enrolled students at a Sword and Sorcery School. The game features 18 unique classes to choose from including: Fighter, Swordsman, Ranger, Monk, Ninja, Sorcerer, Puppeteer, Idol, and even a mystery class. Once a team is created, quests are offered and the party can choose their adventure path, unlocking ever more distant and dangerous areas to conquer as they grow in power and confidence. Monster parties can be more than one level deep in a single combat episode, leading to epic encounters of up to 12 or more monsters at a time, where managing a party's ranged and melee skills can be the difference between victorious life and an ignominious death. No dungeon crawler would be complete without an occasional boss, and Class of Heroes 2 doesn't disappoint here, either, with nail-biting super-encounters littered on the path between your party and ultimate victory.

"Our mission is to continue bringing both Japanese import and classic titles to gamers around the world who deserve games they never thought they'd ever get a chance to play," said Ray Almeda, Marketing & PR Manager at MonkeyPaw Games. "Class of Heroes 2 is one of those J-RPGs that deserves to be played by more gamers around the world, its own hardcore fans and dungeon crawler aficionados alike. With continued fan support, we'll be able to keep making these unique gameplay experiences possible."

"Fans that are looking for a dungeon crawler with a more engaging story arc than usual and characters they won't want to say goodbye to at the end will really be in for a treat with Class of Heroes 2," said Victor Ireland, GaijinWorks President.

Class of Heroes 2 is available for the PSP and PS Vita on PSN for $24.99. Will you be downloading it?