News: Lego Marvel Super Heroes will be out later this year and will allow you to go through an original story with your favorite Marvel Super Heroes.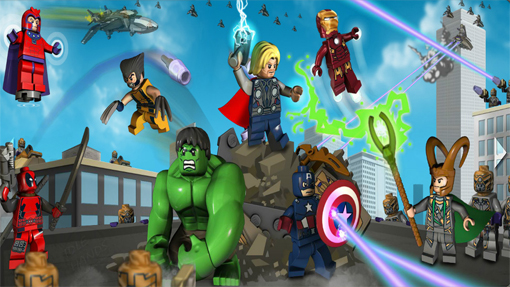 Lego Marvel Super Heroes is the latest Lego title in development and will hit consoles later this year. Lego Marvel Super Heroes features an original story crossing the entire Marvel universe. Players take control of Iron Man, Spider-Man, the Hulk, Captain America, Wolverine and many more Marvel characters as they unite to stop Loki and a host of other Marvel villains from assembling a super-weapon capable of destroying the world. In the game you will chase down Cosmic Bricks as they travel across Lego Manhattan and visit key locations from the Marvel universe, such as Stark Tower, Asteroid M, a Hydra base and the X-Mansion.

Some of the features for the game includes:

- Smash, swing and fly in the first LEGO videogame featuring more than 100 of your favorite Super Heroes and Super Villains from the Marvel Universe, including Iron Man, Wolverine, the Hulk, Spider-Man, Captain America, Black Widow, Loki and Deadpool.

- Help save Earth as your favorite Marvel character with your super-cool strengths and abilities

- Iron Man flies, hovers, shoots missiles and unleashes a powerful unibeam directly from his chest.

- Spider-Man shoots webs, uses his spider-senses to spot objects invisible to others, crawls up walls and, of course, web-slings.

- Captain America throws his mighty shield at objects and enemies, embeds it into a wall to create a platform, and protects himself from damage.

- Perform new and powerful moves as "BIG-fig" characters like Hulk and Abomination. Leave a path of destruction as you smash through LEGO walls and throw cars using hyper strength.

- Create unique Super Heroes with customizable characters.

- An original story, filled with classic LEGO videogame adventure and humor.

Take a look at the Gamescom trailer that was just released for Lego Marvel Super Heroes and tell us what you think. Lego Marvel Super Heroes is set to be released this fall for Xbox 360, PS3, Wii U, Nintendo DS, Nintendo 3DS, PS Vita, PC, Xbox One and PS4. Will you be picking it up?