Black Friday Samsung TVs News: Samsung TVs are not all reasonably priced, like this super-high-end 4K 85-incher that is only suitable for the one percenters out there.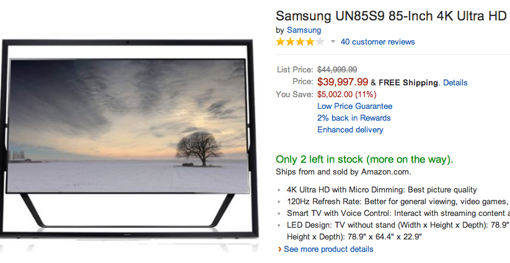 We previously highlighted Samsung 4K TVs for Black Friday and they had reasonable prices. However, there are still 4K televisions sets the blow the bank.

Case in point, the 85-inch Samsung UN85S9 85-Inch 4K Ultra HD 120Hz 3D Smart LED TV on Amazon is $39,997.99. You'd have to be at the top of Santa's list to earn this present in 2013.

The official specs for this LED television include 4K Ultra HD with micro dimming, a 120Hz refresh rate, and Samsung's Smart TV interface with voice control. With 4 HDMI ports and 3D on board, your mind doesn't want to say no, but your wallet does.

Just think of it this way, though. There isn't a whole lot of 4K content out there to justify the $40,000 purchase on Amazon, even with free shipping involved. Although Samsung 4K TV prices are likely to come down, we're thinking that the 85-inch version is always going to be a little bit out of our price range.

Check out more reasonable Black Friday deals on the right side of your screen.