Galaxy S4 On Sale News: Galaxy S4 deal for AT&T, Verizon and Sprint is the tail end of Best Buy's Cyber Week sale on Friday.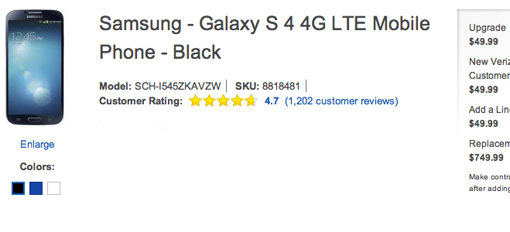 If you're going to buy the Samsung Galaxy S4 on sale before Christmas, check out the winding down Cyber Week deal that Best Buy has today.

The Galaxy S4 is on sale for just $49.99, making it $150 cheaper than its original MSRP when it launched seven months ago. This Google Android smartphone with a 5-inch display requires a two-year contract and comes with free shipping.



Best Buy has the Galaxy S4 for the Galaxy S4 on Verizon, AT&T and Sprint in multiple colors. Color choices include Blue Arctic, Black, White and Purple. Its internal storage can also be bumped up at the retailer's store or through it's website.

While Best Buy sells this Samsung phone for three top carriers, Verizon being the most popular of the three right now, it doesn't have the Galaxy S4 on sale for cheaper networks like T-Mobile, MetroPCS and US Cellular.

As the week ends, so does Best Buy's Cyber Monday deals, scoop up the Galaxy S4 now or hold your breath for the Samsung Galaxy S5 sometimes next year.