News: Natsume has revealed that their popular game, Bust A Move 4 will be available on PSN later this spring.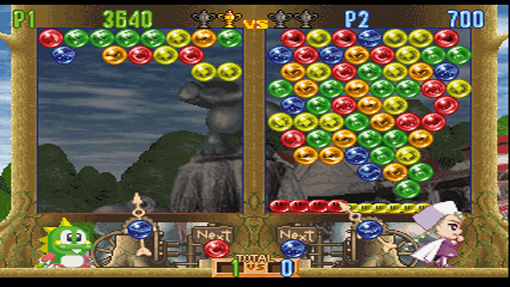 Bust A Move 4 is coming soon to the PlayStation Network according to Natsume. Unfortunately the game will not be on the Playstation 4, however, it will be on PS3, PS Vita and even PSP. Bust A Move 4 features eight playable modes, including Puzzle Mode, Versus Mode and Edit Mode, where players can create up to 25 of their own personal stages. Bust A Move 4 was the first title to introduce both the pulley and chain reactions as well. Pulleys require players to play the entire field so that the weights on each side of the stage don't rise or fall to low.

"Bust A Move 4 was a very successful and popular title, and fans have been asking for a re-release for years," said Hiro Maekawa, CEO of Natsume Inc. "We were very happy to bring this classic back to new systems as a digital download."

Featuring the iconic anthropomorphic dinosaurs, Bub and Bob, this dino duo must rescue the seven shattered rainbow bubbles alongside a cast of series favorites. With ten playable characters and four additional characters that can be unlocked, there's plenty of ways to chase after Madame Luna.

Are you excited to play Bust A Move 4 again? Which version will you buy? Tell us what you think below.