News: It has just been revealed that Kaos is getting his own mode in the new Skylanders and he has released a statement discussing his evil intentions.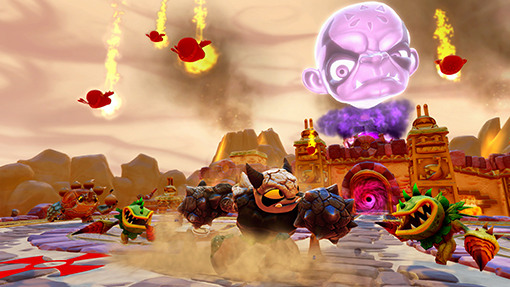 Activision has revealed that they have made a special gameplay mode for Kaos in the upcoming game, Skylanders: Trap Team. Kaos has written a letter to everyone to address this latest development which you can read below:

----------

Attention foolish human fools! Activision Publishing, Inc., a wholly owned subsidiary of Activision Blizzard, Inc. (NASDAQ: ATVI), is officially announcing an all new diabolical gameplay mode in honor of me, Emperor Kaos, the most infamously evil villain in all of Skylands! In my glorious "Kaos Doom Challenge," sniveling Portal Masters like you can feebly battle through increasingly difficult waves of my personal minions using your ridiculous army of Skylanders.

And since you obviously won't stand a chance, I, Kaos, will graciously allow you to build defensive towers and battle my fearsome allies using any of your Skylanders from your entire collection. However, when you bumbling Portal Masters utterly fail to progress past my hoards of evil underlings, the "Mystery Box of Doom" will be opened - which will then incomprehensibly spit out gigantic villains that will completely destroy you! And because I am both benevolent and merciful, I will even let you fools use any of your pitiful Trapped Villains to fight them.

And, should any of you so-called "journalists" need an official quote from me -BEHOLD! "A recent evil study of a thousand trolls revealed that nine out of ten agree that I am the most powerful and impressive evil doer to have ever conquered Skylands. Naturally, I had every tenth one banished to my "Kaos Doom Challenge" to test the effectiveness of my 100 waves of ultimate evil doom - and they were never heard from again. So let's just say EVERYONE agrees - I am the most powerful and impressive evil doer ever."

----------

Kaos also released a trailer to show off this new mode in action so check it out below and tell us what you think. Will you be picking up Skylanders Trap Team when it launches next month?