Black Friday News: Walmart has Skylanders Trap Team on sale during Black Friday on systems Wii U, Xbox One, Xbox 360, PS4 and PS3.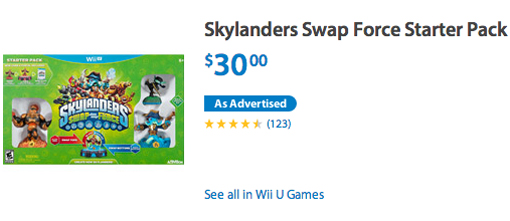 The best Black Friday deal for Skylanders Trap Team Starter Pack is at Walmart, where the game is retailing for $30 on all six consoles: Wii U, Wii, Xbox 360, Xbox One, PS3 and PS4.

That's a great discount over the normal price of $74.99, which is the original price this game launched at on October 5.



Scouting other Black Friday deals for Skylanders Trap Team, we found that

surprisingly Amazon

and

also Best Buy

are selling the bundle for $50. Not as much of a discount there, so only spring for these versions if you're desperate. Right now, though, the Starter Kit for all video game systems are in stock at Walmart, so there shouldn't be a problem.

This is likely to be the cheapest Skylanders Trap Team price you'll see during the Black Friday and Cyber Monday shopping weekend. It's going to be very difficult to beat the game at half price when it comes with the starter pack toys and portal.

Walmart has the Activision-made game on sale both online and in stores, but we suggest reserving your copy through the "pick up at store" if you decide to fetch it in person. Considering all of the Black Friday sales going on and crowd that comes with it, it's better than waiting in a massive line.