Cyber Monday News: Want FIFA 2015 for Christmas, but don't want to pay full price? Look for this discount from Amazon now through Cyber Monday.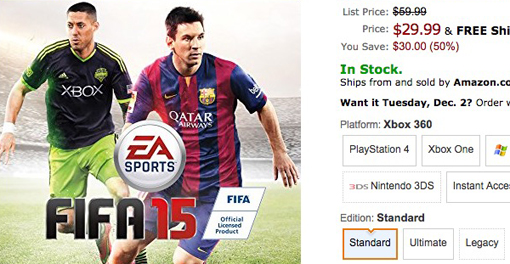 Good things come to those who wait for FIFA 15 until Cyber Monday, as the soccer game is retailing for half the price it was at launch a few months ago.

Amazon's FIFA 15 $29.99 deal for Cyber Monday is the best we could find on Xbox 360, PS3 and PS4. Curiously, the Xbox One version costs a little more: $39.99. Still on sale, but not as much as its console counterparts.



All of these Cyber Monday prices for FIFA 15 are equal to or way better than what you'll find at Best Buy, Walmart and GameStop. In fact, Best Buy is still selling EA's European footballer for $59.99, which is full price. No link will be provided to that non-deal.

GameStop has it for $29.99

for all versions except the PS4 and Xbox One editions. It's still upcharging for next-gen games at $39.99 in this case. GameStop's PC version of FIFA 15 is $29.99, which is actually better than Amazon's price of $59.99 if you want to download the game right now.

Walmart is selling FIFA 15 for $49.99

, which is $10 off, but hardly a bargain from the No. 1 retailer in the US. As it stands, Amazon has the best price for FIFA 15 and it may get better during the online retailer's Lightning Deals during Cyber Monday.

Stay tuned to Gaming Target for more video game deals from now until Christmas. We'll update the homepage with the latest prices.