Cyber Monday News: Find Google Chromecast at the cheapest price on Cyber Monday through Amazon, where it is price dropped to $22.99 over other stores.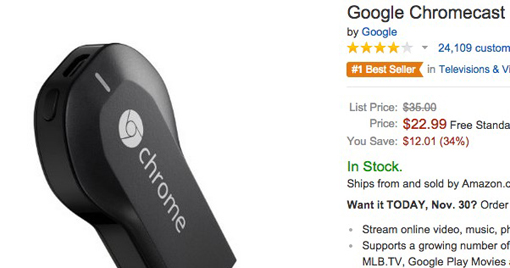 Google Chromecast was already a cheap way to stream apps to your TV, and now Amazon and other retailers have slashed the price for Cyber Monday.

You can find Chromecast on sale for $22.99 through Amazon, even though the online retailer has its own competing media streaming stick for $39. Google's device real price was $35 before this Cyber Monday timed price drop.



Walmart has it for $25, which is close in price. But the nation's No. 1 retailer requires in-store pickup, which may be a deal breaker for some online shoppers. Though, it may actually be a perk if you're looking to buy a Chromecast today.

Best Buy is charging $25 for the Chromecast and allows you to have it shipped for free or select in-store pickup. The best of both worlds if you can't score that impressive Amazon deal.

Amazon's Cyber Monday sell-off of Chromecast beats Google's official deal that also has the set top box on a stick for $25 for a "limited time only." Amazon may not be selling as many of its own streaming devices as Google, but at least it's offering up better deals without blocking competitors during the holiday sales period.

Check back for more Cyber Monday deals on Gaming Target as we update the site with all sorts of worthy discounts.