News: Activision is releasing the next iteration in the Skylanders franchise on Sunday that includes vehicles for the first time.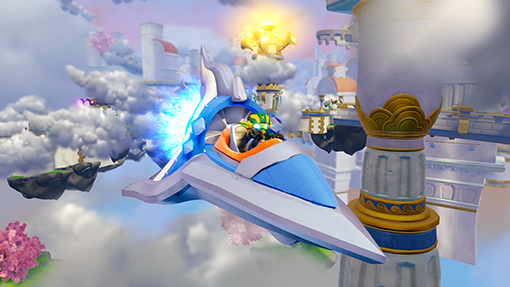 Skylanders Superchargers is set to come out on Sunday according to Activision. Skylanders SuperChargers takes you on a wild ride as you drive the mountainous terrains, dive the deep sea environments and fly the big blue skies of Skylands like never before with amazingly detailed vehicles, many of which feature moving parts that will play in the real world and come to life in the game via the Portal of Power. Packing some major star power, the game includes two of Nintendo's iconic characters reimagined as Skylanders -- Turbo Charge Donkey Kong and Hammer Slam Bowser -- available exclusively in Skylanders SuperChargers Starter Packs for the Wii U system, and in Skylanders SuperChargers Racing Starter Packs for the Wii system and the Nintendo 3DS family of systems.

"Remember when you were a kid and pretended that your toy cars came to life, zooming around your living room on the most epic racetracks of your imagination?" said Eric Hirshberg, CEO of Activision Publishing. "Well, we are about to bring that fantasy one step closer to life with Skylanders SuperChargers. We are reimagining toys-to-life by bringing race cars to life, along with helicopters, motorcycles, jet planes and submarines, as you race through Skylands and compete against other players for the first time. Our fans are going to love playing this game. I know I do."

Developed by Vicarious Visions, Skylanders SuperChargers expands upon the franchise's signature gameplay to introduce vehicles-to-life -- an entirely new way for fans to experience the magic of Skylands. The innovation of Skylanders SuperChargers is realized when players take the helm of powerful, tricked-out land, sea and sky vehicles that are playable in both the physical and digital worlds in a high octane action-adventure videogame. Skylanders SuperChargers offers a rich story-driven gameplay experience filled with vehicle-based and on-foot adventures, combat, puzzles, mini games, activities and platforming, set within a variety of all-new compelling environments. The game features a brand-new class of heroes that is distinct with fresh moves, powerful attacks and all-new weapons. SuperChargers also have special in-game abilities that help Portal Masters fight Kaos. Twenty new SuperChargers character toys and 20 new vehicle toys will be available. Right out of the box, the game also features an all-new Racing Mode that blends high-octane, super charged racing with combat, accentuated by power-ups, boosts, hazards and more.

Players can also purchase Racing Action Packs that unlock additional content. A total of three Racing Action Packs, one for each terrain, will be available for $34.99 MSRP and each will include three special toys -- a SuperCharger, vehicle and villain trophy which unlocks two exclusive racing tracks for the game. The first of the three packs, the Skylanders SuperChargers Sea Racing Action Pack, will be available at launch.

To celebrate the arrival of Skylanders SuperChargers and the addition of racing to the franchise, Skylanders became the official partner of racing champion Max Chilton for the season finale of Indy Lights Presented by Cooper Tires. Chilton, a 24-year-old former Formula 1 driver and fan of the Skylanders franchise, blazed the tracks of Laguna Seca in a Skylanders-themed race car on September 12-13. "SuperCharged" Chilton shattered Tony Kaanan's 1997 track record in the qualifying race, broke the race lap record set by Helio Castroneves in 1996 and ended the season on the Indy Lights podium for Carlin. Skylanders also "SuperCharged" Enea Bastianini from the Gresini Racing Team to take the win at the San Marino and Riviera di Rimini GP in Italy, his first career victory in the Moto 3 World Championship. Bastianini will take to the track again in his Skylanders SuperChargers-branded race suit at the Aragon Grand Prix in Spain on September 25-27.

"The Skylanders brand continues to capture our customers' attention every year by delivering on its promise to redefine play by merging the physical and digital worlds, which is why the newest addition to the franchise has been named to our annual Toys"R"Us Holiday Hot Toy List," said Richard Barry, Executive Vice President, Global Chief Merchandising Officer, Toys"R"Us, Inc. "We are excited to support the launch of Skylanders SuperChargers and fully expect to be the global destination for fans to experience this truly innovative adventure in gameplay."

The Skylanders SuperChargers Starter Pack will include two new Skylanders characters, a first-of-its-kind Skylanders vehicle, a newly designed Portal of Power and the full AAA game. Skylanders SuperChargers will be available for the PlayStation 3 and PlayStation 4, Xbox 360 and Xbox One and Nintendo's Wii U system for $74.99 MSRP. Skylanders SuperChargers Dark Edition Starter Packs also will be available in North America on September 20 for $99.99. All Dark Edition Starter Packs will include Dark Spitfire, Dark Hot Streak and the highly sought after Kaos Trophy which is the only way to unlock special gameplay content, plus a two-sided ultimate collector poster. The Dark versions of the Turbo Charge Donkey Kong and his vehicle, Barrel Blaster, will be available in the Wii U Dark Edition Starter Pack; Dark Hammer Slam Bowser and his vehicle, Dark Clown Cruiser, will be available in the Wii Dark Edition Starter Pack.

Fans of the Skylanders franchise can also choose to purchase the Digital Portal Owner's Pack, available on September 21 for $49.99 MSRP for connected consoles, and use the Portal of Power they already own to play Skylanders SuperChargers. The download of the Digital Portal Owner's Pack provides a great way for returning players to enjoy Skylanders SuperChargers on the platform of their choice. On October 25, the full Skylanders SuperChargers game will also be available on select iOS devices including iPad, and for the first time ever iPhone and iPod touch. Skylanders SuperChargers will also be available on Apple TV this fall.

Will you be picking up Skylanders SuperChargers? Tell us what you think below.