News: Activision has revealed how you can be in the next Guitar Hero game by sending in videos of you dancing and singing.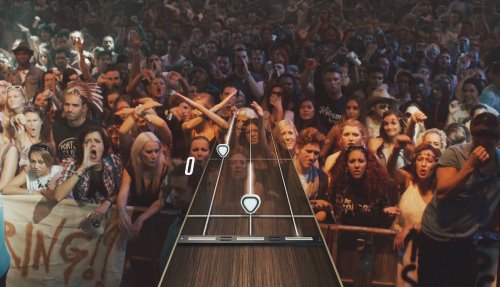 Guitar Hero Live is partnering with crowd-sourced music video creation app musical.ly to kick off Guitar Hero TV Star, which will ask fans to submit clips of themselves singing and dancing along to Ed Sheeran's hit song "Sing." The end result will be a world premiere, user-generated music video in GHTV, Guitar Hero Live's playable music video network.

"Guitar Hero Live gives you the thrill of being a rock star by playing in front of real crowds or awesome music videos, so we wanted to give fans the opportunity to become stars of their own music video that will be featured and playable in the game. This is something that has never been done before and we believe it is the perfect way to celebrate the launch of the game," said Tim Ellis, CMO of Activision Publishing, Inc. "With GHTV, the game's online playable music video network, we can deliver all kinds of gameplay experiences that just weren't possible in the past. To put real fans into a video that people can play along to in the game is an expression of the innovation that we have built into Guitar Hero Live and we're excited for fans to play along - and sing along - to the music."

"Guitar Hero and musical.ly share a similar vision to make music more participatory and interactive," said Jun Zhu, co-founder and co-CEO of musical.ly. "Millions of people use musical.ly every day, and we're thrilled to help them take over the stage, show their talent, and connect with their favorite artists."

GHTV, the world's first playable music video network, is a revolutionary way to play Guitar Hero, allowing fans to play along to a continually-updated collection of official music videos, from the newest releases to favorite hits. Just one of the gameplay modes in Guitar Hero Live, GHTV is a living, breathing platform that will continue to grow, serving as an ever-expanding source for music discovery. And with the premier of the fan-sourced music video for Ed Sheeran's "Sing," players will be able to jam along to the first ever fan-sourced video in GHTV. Starting today through October 25, video clips will be chosen by a music video editor from those submitted through the musical.ly app and then shared through Twitter and Instagram with the official #GuitarHeroTVStar hashtag. Fans can visit www.guitarhero.com/GHTVstar to find out more information on how to participate.

Guitar Hero Live is set to be released on October 20 in North America and on October 23 in Europe on Xbox One, PS4, Xbox 360, PS3 and Wii U. It will also be on iOS devices such as iPad, iPhone and iPod Touch. Will you be picking up Guitar Hero Live when it launches next week? Tell us what you think below.