Reviews: Star Wars Battlefront goes a long way in providing Star Wars fans a game they can drop into and just have fun with.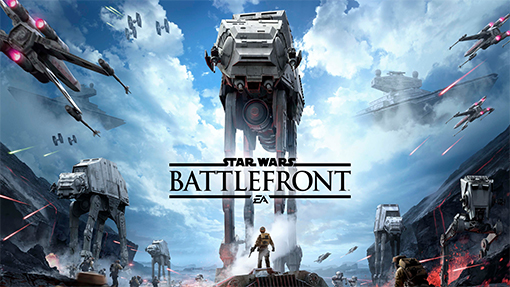 The Battle of Hoth is well worn ground for Star Wars games. While it's made it's way into dozens of them over the years it's never been experienced quite like this. 40 players battle it out in a sandbox that gives you the keys to ships, walkers, all manner of turrets, blasters and power ups that make for one of the most fan pleasing and delightful Star Wars experiences I've ever had. The joy of trampling rebel scum in a chicken walker or blasting them while rocketing around as Boba Fett simply cannot be understated. You're open to hop into any multiplayer mode or alternative single player and co-op experiences dubbed "missions" from the start. Without a traditional single-player campaign it's on DICE to deliver enough depth and variety to give players a reason to stick around. So how does it fare?
Regardless of where you decide to start in Star Wars Battlefront the first thing that becomes apparent is the staggering level of dedication taken to recreate the look and feel of the original movie trilogy. From the scratched uniforms of stormtroopers to perfect replicas of vehicles like the X-Wing and towering AT-ATs it's clear that DICE has gone to great lengths to deliver a level of authenticity that should make any Star Wars fan proud. Of course the sound design lives up to exactly the level you'd expect of this franchise and with a surround system or good pair of headphones you'll have your ears assaulted with all the familiar battle sounds that will delight and terrify you in exactly the right ways. The screams of TIE's flying by and dozens of blaster rifles being fired at any given time just sounds so very good. Environments too are crafted with so much love that you'll feel like you're right in the middle of a major battle taking place in that galaxy far far away. The one unfortunate caveat to the overall presentation is the voice acting on the hero characters. It's less noticeable with the villains as with Han, Luke and Leia but the faithful accuracy of everything else in the game makes these voice captures stick out like a sore thumb. The overly chatty heroes are at best distracting and at worst can be downright annoying. I've never wanted Han Solo to shut up before but a few rounds of Hero battle had me wishing just that.
As a game that is almost exclusively multiplayer, Battlefront will live or die based on the strength and breadth of the modes it provides and the 12 maps you play them on. Given that the maps are divided up based on the size of whatever mode you're playing it's critical that each piece does it's job well seeing as each game type will see a relatively small rotation of supporting maps. The results are a bit all over the place but luckily each map type has something worthwhile to play on it. The highlights here are Supremacy and Walker Assault. Supremacy will have you fight from one control point to the next in an attempt to drive off the opposition. Walker Assault will have Rebels fight tooth and nail to fend off a seemingly overwhelming show of Imperial force. Playing on either side provides a unique thrill of either crushing the Rebels and overcoming the odds to take out the towering AT-AT's in a race against time. With each you'll have access to the best toys available in Battlefront's sandbox. Hero characters and vehicles feel powerful and give you a unique perspective on a battlefield of other players that will have to combine forces or surprise you to gain the upper hand. Since access to these are given through power ups that spawn around the map they won't be limited to only the best players that put together the best killstreaks. There's always something bigger happening around you and these modes provide a wonderful feeling of being stuck right in the middle of a battle pulled right out of the movies.
Smaller scale firefights are also supported with the likes of "Blast, Cargo, Drop Zone, and Droid Run." Blast is as straightforward a Team Deathmatch mode as you can ask for. It's fine if all you want to do is shoot other players without having to worry about completing the objectives, or the additional chaos that heroes and vehicles provide but without having so many of the elements that make Battlefront unique it feels somewhat stale when compared to other modes. Cargo is a take on capture the flag that has each side start with 5 "flags" to fight over and given the number of captures it takes to actually win the game it doesn't provide the needed tension for a mode like this to be exciting and most matches I played were pretty deadlocked until the timer ran out and it ended in a draw. Drop Zone and Droid Run are both point control modes with the former pushing you to constantly choose between waiting around for a captured escape pod to open for a critical power up or rushing to grab the next pod before the enemy can get to it and dig in. Wild swings of attack and defend and matches that often come down to a last minute rally to seal the win make it exciting at all times. Droid run on the other hand tasks you to capture and hold a set of wandering droids. The ever moving control points should theoretically create some dynamic firefights but usually results in players running in circles and wondering if we're winning. There's no cumulative score tracker and it all comes down to who can capture them all at the end. It makes all but the last minute or two of a match feel pretty meaningless and this mode suffers for it. Fighter Squadron is a welcome change from the other modes in that it's all dog fighting all the time against AI and other players. It's a great way to break up the pace and is one of my favorite things to do since there's very few flight combat games around anymore. Finally there's Hero Hunt and Heroes vs. Villains. Each will put you in the shoes of one of the six iconic movie characters available if you're lucky enough. If not, you'll be stuck getting frustrated as a comparatively weak trooper locked in a battle you'll most often lose in the case of Heroes vs. Villains or compete with six others and hope to land the killing shot so you can become the Hero and score points in Hero Hunt. Both prove more frustrating than fun and I found little reason to keep playing them other than as a reason to simply play something totally different from Battlefronts' tighter more competitive modes.
If you want to just play by yourself or with a co-op partner against the AI you'll want to check out what's available in "Missions." You can battle it out against waves of AI enemies in "Survival" or just fight as a team of Rebels/Imperials in "Battle" or "Hero Battle" and collect the dropped tokens of your foes to win. Both modes are playable in split-screen but there's no matchmaking for either so you'll have to invite a friend if you don't want to play by yourself. Each has three difficulties available and stars to earn for getting collectibles and tasks completed. Combine this with a timer that compares you to your friends at the end of each round and I found a surprisingly addictive reason to go back and take on the same battles more than once.
Star Wars Battlefront is a sample platter of everything that makes Star Wars fun. The presentation and attention to detail is top notch and will no doubt give fans a wonderful taste of what they remember so fondly about the original trilogy. A handful of throwaway game types and the modest selection of maps mean there may be less reason to stick around with the base game and stay invested long term but the all out warfare of Supremacy and Walker Assault goes a long way in providing Star Wars fans a game they can drop into and have the chance to feel powerful and most importantly have fun with.