Reviews: A Rock and a Hard place is the most even and interesting Episode yet in Minecraft: Story Mode.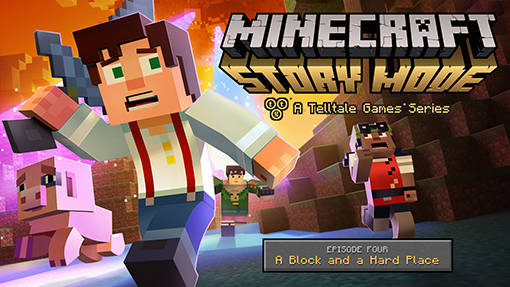 After a somewhat disappointing episode three, Telltale's Minecraft Story mode has a bit more to prove with its latest entry. So how does episode four stack up to the other episodes released thus far? The short answer is very well. There's enough twists and turns with all the major characters to provide a satisfying conclusion of this episode's arc.
From the start of episode four there is a good set of action sequences to get things moving in the right direction. Some of these also seem to require a bit more player agency than most of what's been seen so far as missing a quick time event can lead to an immediate death for Jesse. It's nice to see mistakes actually carry a bit of weight since up to this point it hasn't seemed to make any difference whatsoever whether you correctly hit many of the required button presses. The action and combat heavy early chapters will eventually relax into the more dialogue and puzzle heavy middle of the episode. It's here where "A Block and a Hard Place" shows it's greatest strength and biggest weakness. While wandering through an unnecessary maze and solving a couple of simple and uninteresting puzzles may grind at your interest in what's going on you'll quickly regain focus once one of the major characters starts to open up and reveal things about their background and sparks a new and unexpected dynamic between the appropriate characters. This is helped by the fact that the cast seems to be balanced a bit more than in previous episodes and focuses in on the right ones at the right times. Jesse and friends will have some unexpected weight shift on them and are given every reason to doubt that they can actually pull it off.
The strength of the middle part of "A Block and a Hard Place" springboards the last couple chapters of episode four into a final sequence that not only did a good job tidying up the major conflicts set up through the season so far but has me very curious about what's to come in episode five. Given the result of my playthrough I'll be very curious to go back and discover what I can do to alter a few particular outcomes. My biggest worry is that the final episode may feel disjointed or out of place at this point in the story. The good news here is that episode four of Minecraft Story Mode has largely corrected course for what has been a rather uneven series so far.
Despite some technical issues that I noticed far less in previous episodes "A Rock and a Hard Place" is the best of Minecraft Story Mode so far. There were definitely lines of dialogue I missed completely because of Telltale's stuttering engine. I'm hesitant to recommend the series as a whole given how uneven it's been from one episode to the next and even more so given that episode five could stand to be the most disjointed so far in the context of where the story wraps things up by the end of this episode. That said if you've been following the series so far then you're in for the most even and interesting episode yet with this entry.