Reviews: A death defying puzzle solving game where you need to use death to your advantage to solve puzzles.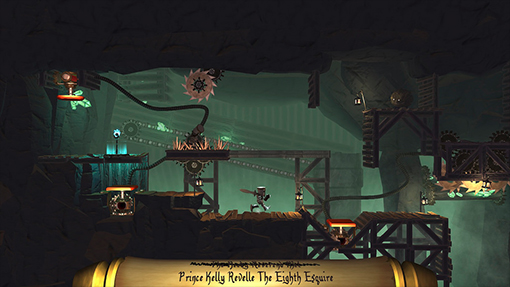 It is an accepted fact of life that at some point in the future, we will all feel death's cold embrace. Over at Infinite Monkeys Entertainment Ltd., however, they seem to have a different idea in mind with Life Goes On: Done to Death. In their eyes, death is not the end, but rather a beginning. It is a means to an end that will allow one to reap rewards and riches.
In the world of Life Goes On: Done to Death, a king who is terrified of death sends what seems like the entirety of his royal military to obtain the vaunted Cup of Life, which will grant the user immortality. On their quest, to obtain the Cup of Life for their king, the army of knights encounter countless lethal obstacles that lay before them. Their solution? Throw as many bodies at the problem as possible until a path to success can be achieved.
Unlike most games, which punish the player for dying, Life Goes On: Done to Death encourages players to die as it is the only way to solve platforming puzzles and challenges in order to progress to the next stage. Each stage consists of a set of puzzles that the player must attempt to navigate through in order to reach the goblet at the end. Many of the puzzles at first seem impossible: a row of spikes is too far to jump or a pair of walls is covered in spikes that prevent the player from wall jumping (in case you can't tell this game loves spikes). However, dying smartly (seems ironic, but I swear it's true) is the only way forward. Expertly throwing your knight at a vast expanse of spikes such that he will die in the middle of the row of spikes will allow subsequent knights to essentially use his corpse as an added platform to hop across (it's as hilariously morbid as it sounds!). Furthermore, there is no limit to the amount of corpses that can litter each stage, so dying multiple times over the course of a stage in order to complete it is an integral part of the game.
Now I know what you're thinking, "If I can die as much as I'd like with no penalty for death, it doesn't sound like it would be a very hard game", and you would be right for the most part. There is a certain level of challenge to the game, however it doesn't arise for simply beating the stage, but rather how you beat the stage. Levels will have different requirements that involve a time for completion and a death limit. While the player does not actually have to meet these conditions in order to progress, there are certain purely cosmetic incentives such as new swords and helmets rewarded to players for meeting these conditions. This essentially allows for a system that allows the game to be as easy or as difficult as the player feels like (up till a point since some of the level requirements are rather simple to accomplish). While I do feel the incentive structure is not exactly the most rewarding way to get players to accomplish the level challenges, it is still a welcome addition regardless. That being said, those looking for a grueling puzzle platformer will certainly be disappointed by the level of difficulty in this game.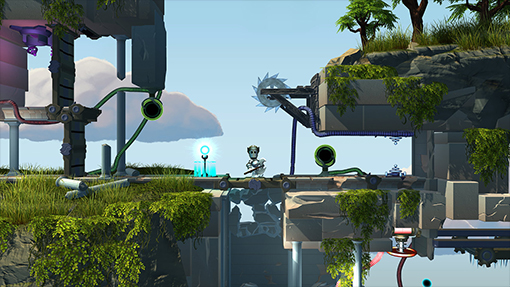 The art style and music offer a strong juxtaposition to the mortifying sense of humor that the game possesses. While the themes of the game are rather dark, they are hid behind an adorable art style and whimsical soundtrack that provide a respite from the rest of the game. Furthermore, the controls are precise for the most part and as such the player is quite easily able to kill knights at the exact spots that they desire. Oddly enough, there is even a creature that appears in certain levels named Jeff and if the player choose to sacrifice knights to him, an added bonus is provided. This adds another layer of complexity to those players trying to maximize the efficiency of their stage completions.
All told, Life Goes On: Done to Death provides a humorous point of view to the rather morbid subject of death. While not being the most challenging puzzle platformer out there, it does provide a nice level of optional challenge for the player, which when coupled with its unique gameplay twist makes for an enjoyable experience. After playing through this game, I can honestly say that brutally murdering your acquaintances in order to reach your goals has never been more entertaining.