Reviews: Duke Nukem 3D: 20th Anniversary World Tour is great for those who have nostalgia for the titles but not necessarily for those brand new to the game.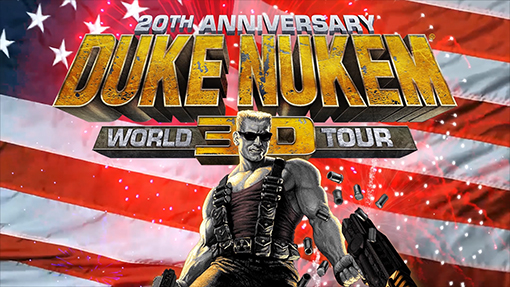 It's hard to discuss the history and origins of first person shooters as we know them without mentioning Duke Nukem 3D along the way. Like DOOM and Wolfenstein before it, Duke would go on to influence the design of future FPS games in the years to come. That said, those designs have come a long way in the last 20 years so how does this seminal 90's shooter hold up today? The answer I think lies largely in what you're looking to get out of this particular release.
As re-mastered old games go World Tour does a great job in most of the areas you'd want. Graphics have not only been given an up-res to fit modern displays but have also been totally reworked to support "true 3D rendering" This is most notable when dealing with the verticality of the level design in Duke Nukem 3D. Looking up and down is no longer the vertigo inducing nightmare that resulted from the old fish eye like effect that was used to fake it back then. Simply put it does a great job of making Duke look like the game you remember rather than the way it actually was and you can switch the visuals on the fly with the push of a button to see the difference at any time a la Halo: Anniversary. On consoles at least, Duke Nukem has never looked so good. Like the XBLA release from 2008 it features a playback system that will allow you to rewind your progress to any point you've played in that level in the event that you die. It's a nice workaround for a game that came long before the sort of checkpoint systems we've gotten used to today and is most handy if you frustratingly miss a critical jump in one of the many areas where platforming is required. In addition to the visual and quality of life improvements they also brought in Jon St John to re-record all of the kitschy one liners that are so fondly remembered from the 90's. The result is entertaining if a bit uneven and if you just want the lines delivered the way you remember there is a legacy track you can switch to.
Perhaps the most meaningful addition to this release is the inclusion of a brand new pack of levels titled Alien World Order created by none other than the original level designers Alan Blum III and Richard "Levelord" Gray. There are 7 brand new levels in this episode and they seem to generally be more open and feature a bit more detail than the original level sets. These globetrotting levels will find Duke at the Pyramids, San Francisco and Paris for example with no discernable link tying them together other than a sort of "because we can" mentality that I imagine the creators had after coming back to this game so many years later. These levels are a fun ride and often feature tons of enemies on screen at once. A feat presumably not possible 20 years ago for the sake of memory constraints. If I didn't know better I'd say these level were ripped straight from the late 90's for how well they manage to evoke so much of what I loved about Duke Nukem 3D. Finally there is a developer commentary track that you can switch on which will put up little speaker icons throughout the maps that you can walk up and trigger. Most of these are fairly short but sometimes offer an interesting peek behind the curtain of game development in the early to mid 90's.
The one big problem with this re-master that I've seen lies in the multiplayer. While it offers matchmaking for all multiplayer modes including co-op I had difficulty with joining or staying connected to matches. I did manage to connect one deathmatch game and one co-op game briefly but quickly was disconnected from both inside of a minute. Setting up a private match yielded more success and I managed to play several rounds without any issue even in a game connected from the US to Belgium. Looking beyond my matchmaking issues the question then becomes whether I actually want to spend any time with a 20 year old deathmatch suite past the desire to fire it up for "old times sake" with some pals. Of course you can always play first to 100 kills 8 player Botmatch if that's your flavor of chaos.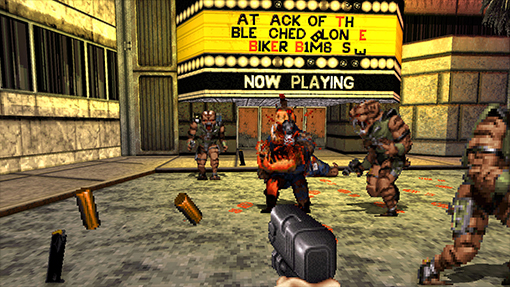 As remasters go I think World Tour hits most of the right notes. The upgraded visuals make the game look as sharp as it's ever been even if some sections come out a little darker than it seems they should. You may have to adjust the brightness depending on your display but this is hardly a major gripe. I did run into occasional gameplay hiccups where the visuals would freeze in place for a second or so. This would often lead to me taking some hits or getting killed where i otherwise wouldn't but it was fairly infrequent. It happened enough times that it's worth mentioning but the aforementioned replay feature mitigated the frustration of unfair deaths. A few more extras would be nice in an anniversary package like this but there's enough here to warrant longtime fans giving it a look. Duke Nukem is one of my favorite shooters of all time and this release is worth the price of admission for those looking to assuage their nostalgia. I don't know that there's much here for those that don't already have a fondness for the 20 year old shooter as it's mechanics, design principles and character are all things set firmly in the era of it's origin and thus are understandably dated. If there's one thing that sticks out to me about my time spent with this re-master it's that I finally know what I want out of future Duke projects. I don't want a modernized sequel at all. I really just want more Duke Nukem 3D levels to play.