News: The Skylanders animated series is now available to view on all devices that have Netflix.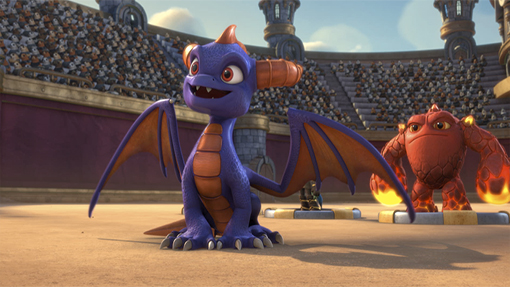 Skylanders Academy is now available on Netflix. Skylanders Academy follows the heroic adventures of Spyro, Eruptor, Stealth Elf, Jet-Vac and Pop Fizz as they travel the vast Skylands universe, protecting it from evil-doers. Skylanders Academy is the first project from Activision Blizzard Studios.

"We are so excited to bring Skylanders to families in a new, fun and exciting way," said Activision Blizzard Studios Co-President Stacey Sher. "High-quality writing, incredibly talented actors and beautiful animation makes Skylanders Academy an epic adventure for the whole family."

"With a huge and engaged global fan base, the $3 billion Skylanders franchise was a natural fit for our first project," said studio Co-President Nick van Dyk. "Partnering with Netflix means huge new audiences can meet the Skylanders, while giving millions of fans worldwide even more of the characters they love."

In Skylanders Academy, as darkness begins to threaten peace in the Skylands, Master Eon is forced to assemble a ragtag group of heroes to protect the universe from evil-doers Kaos and the Doom Raiders. Using their unique blend of personalities and super powers, Spyro and his fellow Skylanders are called upon to set aside egos as they come together to maintain harmony and balance in the land.

Created by Toys For Bob, the Skylanders franchise has sold through more than 250 million toys since pioneering the toys-to-life category in 2011. Earlier this month Activision released the Skylanders Imaginators video game, which gives kids the power to create their very own Skylanders and bring them to life for the first time.

Season 1 of Skylanders Academy runs for 12 episodes and Season 2 will debut on Netflix in late 2017. Led by showrunner Eric Rogers (Futurama), the series features the voices of Justin Long (DodgeBall) as Spyro; Ashley Tisdale (High School Musical) as Stealth Elf; Jonathan Banks (Breaking Bad) as Eruptor; and Norm MacDonald (SaturdayNight Live) as Glumshanks. Additional voice talent includes Susan Sarandon, Daniel Wu, Bobcat Goldthwait, The Diamond Minecart, Parker Posey, James Hetfield, Catherine O'Hara, Chris Diamantopoulos and Harland Williams, among others. The series features the exclusive song "Harmony" (The Skylanders Academy Theme) produced and performed by Grammy Award winner Timbaland, featuring Dalton Diehl. Skylanders Academy is the first Netflix original series to be inspired by a video game franchise.

Do you plan on watching Skylanders Academy? Have you picked up Skylanders Imaginators yet? Tell us in the comment section below.