News: A physics-defying title with intentionally unsteady controls is set to hit the Xbox One and PlayStation a little later this year.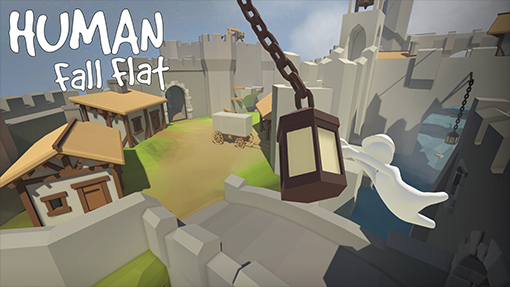 Curve Digital has revealed that this Spring console gamers will get a chance to experience Human: Fall Flat, a humorous, dreamlike world filled with physics-defying and rule breaking hilarity. In Human: Fall Flat, players escape surreal dreamscapes by solving open-ended puzzles while struggling with intentionally unsteady controls that result in hysterical clumsiness and potentially endless falling. The game will release on the PlayStation 4 and Xbox One with additional content, brand new puzzles and bespoke customization options. Those interested in a sneak peek of the new content can join Curve Digital at GDC in booth 1416, at PAX East in booth 22125 or at South by Southwest.

After releasing on Steam last year to considerable consumer praise, Human: Fall Flat became a YouTube phenomenon, garnering more than 70 million cumulative views thanks to the game's hilarious gameplay that had people discover their own solutions to overcome obstacles – often there are many ways to reach each level's exit.

Playing as Bob, the player will control his basic movements, but operate his arms independently, making it challenging to traverse this beautiful yet deadly world and interact with objects that can be used to solve the level. Bob can pull stuff. He can push stuff. He can kick stuff. He can carry stuff. He can climb stuff. He can break stuff. He can use stuff on other stuff to make even more stuff happen, but these actions aren't so easy with flopping arms. Players who learn to master Bob's movement will unlock a wealth of opportunities to break the rules and beat the levels. For even more fun, players can work together as best they can to solve the puzzles in co-op mode.

"Millions of people have played or watched Human: Fall Flat and there is one thing that we can all agree upon – it's just a really fun game," said Tomas Sakalauskas, developer of Human: Fall Flat. "Whether you're playing or watching, seeing Bob clumsily struggle with the most basic of physical movements makes for a side-splitting experience."

Check out the console reveal trailer below and tell us what you think. Have you played Human: Fall Flat on the PC? Will you play it on either Xbox One or PS4?