News: EA has put another popular title in the EA Access vault which means you can now race through the streets of Port Carverton on your skateboard.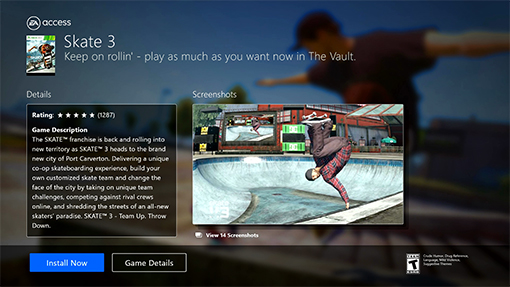 EA is showing gamers some love this Valentine's Day with Skate 3 now being available for free for EA Access members and can now be played on Xbox One via backwards compatibility. EA added Skate 3 earlier today, no doubt making a lot of people happy as Skate 3 was a highly requested title. The EA Access vault now has over 40 games that you can download and enjoy for only $30 a year. It is a pretty insane value and keep in mind that EA Access members will also have access to Mass Effect Andromeda five days early next month.

Skate 3 features a co-op mode where teammates can complete challenges together while advancing each other's careers. From rewarding epic bails and fails with a beefed up Hall of Meat mode to honing your craft with the all-new skate.School, players of all skill levels have multiple ways to "kill it" in the game. The franchise also continues to raise the bar for user created content with the skate.

You can hit the streets with the pros in the all-new city of Port Caverton – a true skater's paradise with unique districts, skate parks, and endless lines. For fans with a creative flair, the new Skate.Park editor allows gamers to create their own dream plaza or mega-ramp park from scratch or use the Object Dropper to alter the landscape of Port Carverton to truly change the face of the city. In the end, Skate 3 delivers a completely immersive and connected experience giving you the tools to build and share your own skate parks, videos, and photos with all of your friends by uploading them directly from your console or importing custom created graphics & logos from the Skate website.

Will you be downloading Skate 3 from the EA Access vault and tearing up the streets of Port Carverton? Let us know in the comments below.