News: Nintendo's newest machine is now available to purchase along with its launch line up and accessories.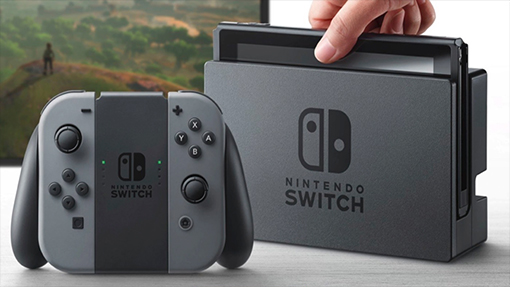 The Nintendo Switch is now available in stores. Nintendo Switch lets people play their favorite games anytime, anywhere and with anyone. The system launches today at a suggested retail price of $299.99. It comes in two color options: a version with a set of gray Joy-Con controllers, and a version with one neon blue and one neon red Joy-Con controller.

"Nintendo Switch makes it easy for anyone to enjoy their games in the living room and then quickly take them on the go," said Nintendo of America President and COO Reggie Fils-Aime. "This versatile system allows people to play in unexpected places. It's the kind of twist in gaming that Nintendo is known for."

Nintendo Switch comes with the main console, Joy-Con (L) and Joy-Con (R) controllers, a Joy-Con grip (to which two Joy-Con are attached and used as one controller), a set of Joy-Con straps, a Nintendo Switch dock (which holds the main console and connects it to a TV), an HDMI cable and an AC adapter.

Nintendo Switch connects to a TV at home and can instantly transform into an on-the-go handheld using its 6.2-inch high-definition screen. The screen includes capacitive multi-touch capabilities for compatible games. The left Joy-Con has a Capture Button that players can press to take instant screenshots of gameplay to share with friends on their social media pages. The right Joy-Con includes an NFC touchpoint for interaction with amiibo figures, as well as an IR Motion Camera that can approximate the distance, shape and motion of nearby objects in specially designed games. Both Joy-Con include motion controls and an advanced HD Rumble feature. The Nintendo Switch Pro Controller, sold separately at a suggested retail price of $69.99, includes all the same features (minus the IR Motion Camera) and comes in a more traditional form factor.

Today also marks the launch of the first epic Nintendo Switch game, The Legend of Zelda: Breath of the Wild, which breaks new boundaries while honoring the origins of the acclaimed series. The game is available for both Nintendo Switch and Wii U at a suggested retail price of $59.99. New compatible amiibo launching today for The Legend of Zelda: Breath of the Wild include Link (Rider), Link (Archer), Zelda and a Bokoblin amiibo at a suggested retail price of $15.99 each. A massive new Guardian amiibo is also available at a suggested retail price of $19.99.

Also launching today is the face-to-face party game 1-2-Switch. From Wild West gunslinging to safecracking to competitive cow milking, the 28 games in 1-2-Switch make creative use of a broad variety of Nintendo Switch features, such as motion controls and HD Rumble. In a video game twist, the game asks players to stare at one another instead of at the TV, creating a fun atmosphere that will liven up any party. Third-party games such as Skylanders Imaginators from Activision Publishing Inc., Just Dance 2017 from Ubisoft and Super Bomberman R from Konami Digital Entertainment round out a launch-day lineup that has something for everyone.

But today is just the start. A steady supply of games will arrive for Nintendo Switch throughout the rest of the year. Other first-party Nintendo Switch games on the horizon include Mario Kart 8 Deluxe (April 28), ARMS (spring), Splatoon 2 (summer), Fire Emblem Warriors (fall), Super Mario Odyssey (the 2017 holiday season) and Xenoblade Chronicles 2 (2017).

Nintendo eShop, Nintendo's online storefront for downloadable games, is also ready to go on Nintendo Switch. The shop is the destination for people who prefer the ease of downloading their games. Both The Legend of Zelda: Breath of the Wild and 1-2-Switch are available for purchase and download today. Additionally, for $19.99, people can purchase the Snipperclips – Cut it out, together! game, which is exclusive to Nintendo eShop. In this game, two players cut paper characters into new shapes to solve dynamic puzzles in a wonderfully creative and imaginative world. It is even possible for four players to solve puzzles as a team or compete against each other in various activities. Snipperclips – Cut it out, together! exemplifies the fun and ease of playing anywhere with anyone on Nintendo Switch. Snipperclips also has a demo that you can download off of the eShop if you want to try before you buy.

Have you picked up a Nintendo Switch console yet? If not, do you plan on doing so?