News: Styx's newest adventure is now available with a new graphical engine, new environments, co-op gameplay and more.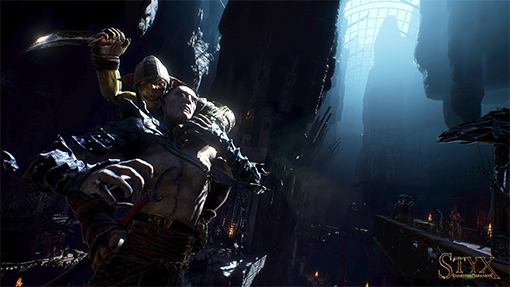 Styx: Shards of Darkness is now available on Xbox One, PS4 and PC. Players will take control of the agile goblin thief Styx as he assassinates, sneaks, and snarks his way across an immense dark fantasy world filled with deadly secrets and enemies.

Styx's latest adventure sees him making an unexpected deal with a mysterious human officer named Helledryn – and she's got a job with far higher stakes than anything he's tackled before. He must steal an ambassador's scepter, which has attracted the interest of several nefarious (and goblin-hating) parties. As a reward for completing this dangerous mission, he's promised a mountain of magical Amber, the source of Styx's power and a substance he's hopelessly addicted to. It's not long before our green-skinned thief gets stuck in a web of intrigue and assassination.

You can master the verticality and non-linearity of Styx: Shards of Darkness' open environments with an array of tools and abilities. Struggling to bypass a heavily guarded entrance? Scout the path ahead using your amber vision, distract the guards with a controllable goblin clone, then emerge from temporary invisibility to stab them in the back. Styx will always have a wide range of dastardly creative methods for completing his objectives – and if you join a friend in the drop-in co-op, you'll discover even more ways to unleash chaos.

Some of the key features in the game include:


A brand new adventure in the universe of a centuries old goblin assassin, taking you to the city of the Dark Elves


New engine: beautiful graphics created in Unreal Engine 4


New enemies, new environments, new abilities and improved stealth mechanics for Styx


Unique co-op mode where you can join a friend's game to sneak and stab through missions together


Take a look at the launch trailer below and tell us what you think. Will you be picking up Styx: Shards of Darkness?