News: There is a special event going on right now for St. Patricks Day where with a modified version of the Downpour map, new camos and more.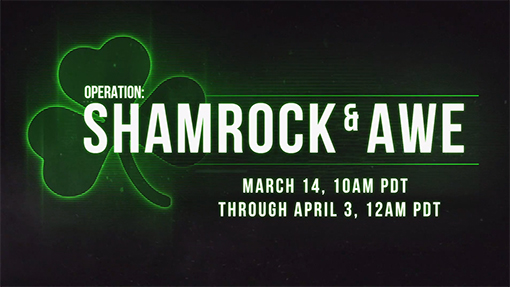 Call of Duty: Modern Warfare Remastered is introducing some new content in celebration of St. Patrick's Day. During the promotion, which runs now through 12:01am Pacific April 3rd, all players will get access to a free map called Daybreak, which is a modified version of Downpour with lush, green countryside and holiday décor layered in throughout. The map also features in-game challenges that allow players to earn a holiday-themed weapon camo called "Folium." Additionally, players will get a free Supply Drop each week simply by logging in to play.

Fans can also acquire a bevy of new themed items including reticles, camos, calling cards and emblems, along with the ability to unlock Darren "Graves" Cosgrave as a playable character. Please also keep in mind that the weekly free Supply Drop will not stack up so you will need to sign in and download by Sunday at 11:59 pm Pacific every week to download it.

If you complete the in-game challenges on the map you will earn two exclusive St. Paddy's themed camos for your weapons: the Shamrockin "Folium" and the "rainbowtized Prism". There are different challenges to unlock the camos for each of the weapon classes but those challenges will disappear when this promotion (known as Operation:: Shamrock & Awe) is over.

Take a look at the trailer below and tell us what you think. Will you be playing Call of Duty: Modern Warfare Remastered to try and get these new items?