News: Download the Splatoon 2 Global Testfire now so that you are ready next week when it launches.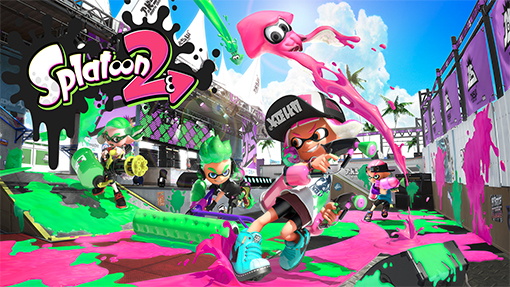 Splatoon 2 is currently slated to be released this summer. Before that happens though Nintendo is going to hold a global "testfire" to put the game through its paces and test out internet connectivity and just generally gather as much data as they can about how people are playing the game. That global "testfire" is set to take place later this month but you can download what you need now so that you are all ready when the time comes.

In addition to the Testfire event, Nintendo squid expert and Splatoon 2 producer Hisashi Nogami also confirmed a new way for players to follow the action when the game launches later in the year – a mode that will give players a unique insight into squid behaviors and strategy called Private Battle Spectator View. This breakthrough in squid-observation technology will allow up to two non-players to participate in a Private Battle as camera operators to observe all the action from multiple angles. In addition to this, a new feature called LAN Play will be added to Splatoon 2, allowing up to 10 docked systems – eight players and two spectators – to connect via wired LAN. This feature allows players to create local Private Battle tournaments without the need for an internet connection. Local wireless play is perfect for your regular gaming get-togethers, but LAN Play is where it's at when you want to organize a serious tournament event with your fellow players.

"Two years have passed in this universe since the original Splatoon, and since then, the weapons, maps and characters have evolved. Through the Splatoon 2 Global Testfire event this March, players will be able to get a taste of that. There will be more new features to experience in Splatoon 2, so please look forward to more reveals in the future," noted Mr. Nogami.

The Splatoon 2 Global Testfire will give Nintendo Switch owners six chances to play with other owners worldwide during the three-day event. The timing of the event is as follows:

March 24


12-12:59 p.m. PT / 3-3:59 p.m. ET


8-8:59 p.m. PT / 11-11:59 p.m. ET


March 25


4-4:59 a.m. PT / 7-7:59 a.m. ET


12-12:59 p.m. PT / 3-3:59 p.m. ET


8-8:59 p.m. PT / 11-11:59 p.m. ET


March 26


4-4:59 a.m. PT / 7-7:59 a.m. ET


Do you plan on participating in any of these events? Will you pick up Splatoon 2 when it launches on the Switch this summer? Tell us what you think below.