News: If you think you and your friends are good at Splatoon and you want a chance to attend E3 this year, be sure to register for this tournament.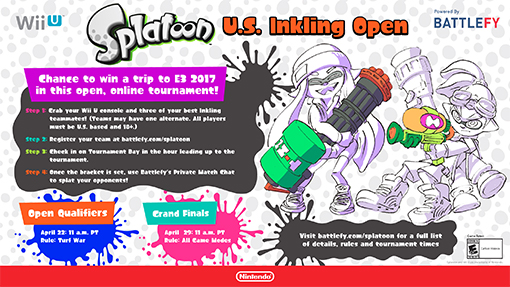 The Splatoon 2 Global Testfire has come and gone and was a big success for Nintendo. We'll now have to wait until this summer to pick up the full version, however, Nintendo has revealed that they are going to be running a contest with the original Splatoon on the Wii U. If you win this contest then you could be attending the Electronic Entertainment Expo (E3) this year.

Battlefy is hosting an online Splatoon tournament across different game modes, including Turf War, Splat Zones, Tower Control and Rainmaker. Anyone ages 18 and up living in the United States with a Wii U console, the Splatoon game and internet access can participate. The winning team will win a trip to Los Angeles to attend the E3 video game trade show this June and check out what Nintendo has in store.

To enter, just find three other friends (and an optional backup) to join your squid squad and register your team at https://battlefy.com/splatoon.

The qualifying round (Turf War) is on April 22 at 11 a.m. PT, but make sure to log in early and click the "Check In" button an hour before tournament time. Once the bracket is seeded, you can set up your qualifying match using Battlefy's Private Match Chat and then proceed to splat your way to hopeful victory. The top 16 teams in the qualifying round will then move on to the finals. In the finals, teams will play Turf War, Splat Zones and Tower Control in succession in single-elimination best-of-five play until only two teams remain. The Grand Finals will see the final two teams doing battle in Rainmaker mode to determine the winner. The finals will begin on April 29 at 11 a.m. PT.

For the full rules and tournament times, visit battlefy.com/splatoon. Do you think you have what it takes to win this tournament?