News: The new Wonder Boy game is being released tomorrow where you can switch between 8-bit and modern graphics.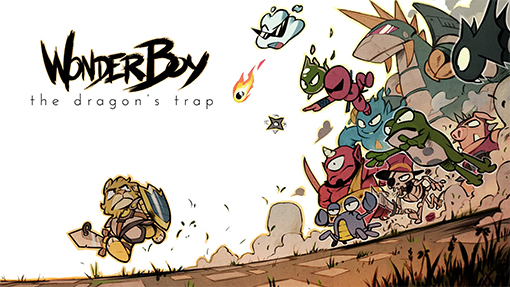 Wonder Boy: The Dragon's Trap is getting ready to be released tomorrow for the Nintendo Switch, Xbox One and PlayStation 4. It will also be arriving on Steam but a release date hasn't been revealed at this time. To help celebrate the release DotEmu (publisher) and LizardCube (developer) have released the launch trailer for you to check out.

The trailer showcases the various characters you can play as, the awesome retro/HD feature which allows you to switch in real-time back and forth from the game's original 8-bit graphics, and the latest addition to the game, Wonder Girl.

Boasting beautiful, hand-drawn animations and a re-orchestrated soundtrack, the cult classic returns with a unique blend of exploration, action, and adventure. Play as Lizard-Man, Mouse-Man, Piranha-Man, Lion-Man, and Hawk-Man, and use their unique abilities to uncover the land's deepest secrets. Switch in real-time between the original retro graphics and the visually stunning modern remake, and input your old Sega Master System passcode to unlock all of your old saves and progression – just how you left them in 1989.

Take a look at the trailer below and tell us what you think. Wonder Boy: The Dragon's Trap will be available tomorrow on Nintendo Switch, Xbox One, and PlayStation 4. Will you be picking it up?