News: In The Escapists 2 you are going to be able to return to the old west as you and your friends try to bust out of prison.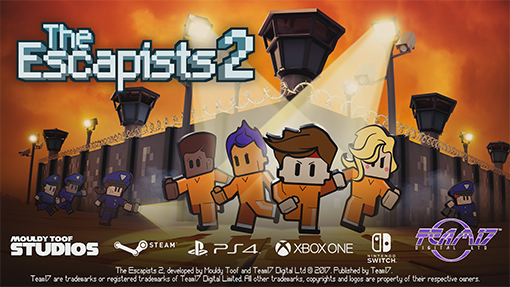 The Escapists 2 is going to be released a little later this year from Team 17 and Mouldy Toof. Earlier today though they revealed a new map that is going to be in the game set in Rattlesnake Springs. The premise for this new location is below:

"Howdy, partner! It's well known in the old west that if you evade the hangman's noose, the local Sheriff sends you upstate to Rattlesnake Springs. Rustled up alongside the lowest outlaws in the county, you decide to break out of this calaboose - by hook or crook!"

For the first time in the series, The Escapists 2 will feature drop in/drop out play for up to four players in both local and online play. Escaping won't be easy though. You'll have to work around the strict prison schedule and avoid the unwanted attention of guards. Craft weapons and tools found (or stolen) from within the prison, but beware of cell shakedowns. Get a job or perform "favors" for your fellow inmates to purchase vital supplies, all while scouting escape routes.

The Escapists 2 will feature the following:


New Ways to Escape - Tie together knotted sheets and use them to climb down high windows in new multi-level prisons and other new ways to make a break for freedom;


New Items to Craft - Build yourself a homemade taser to knock out guards plus many more;


New Combat System - A completely revamped combat system featuring new lock-on targeting and blocking systems plus light and heavy attacks;


New Graphical Style - A brand new look immerses players in a deeper, richer world while maintaining that unique The Escapists style;


More Character Customization - New customization options let players tweak their avatar to a whole new level. Go bald! Sport a mullet! The choice is yours;


More Things to Do - Join a band! Learn to paint! The Escapists 2 will offer more ways than ever to pass the time whilst incarcerated.


The Escapists 2 will launch later this year on Nintendo Switch, Xbox One, PlayStation 4 and PC. Did you play the original? If so, do you plan on picking up The Escapists 2?