News: Voodoo Vince has returned to save the day and is available as an Xbox Play Anywhere title.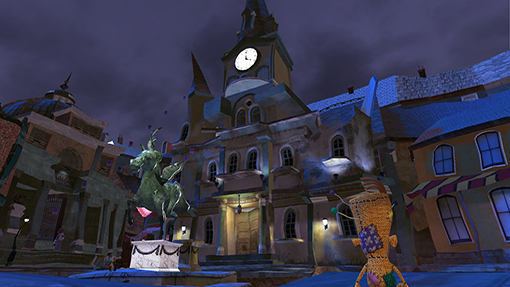 Voodoo Vince is back and in remastered form. Released in 2003 as an Xbox console exclusive, the original Voodoo Vince was only ever playable on the original Xbox. Thirteen years, six months, and twenty-five days later, this remaster spearheaded by creator Clayton Kauzlaric and made possible by Microsoft's ID@Xbox program brings the cult classic up to today's technical standards, while retaining the fondly-remembered story and gameplay exactly as they were.

If you didn't play Voodoo Vince back on the original Xbox the premise is below:

"Vince is Madam Charmaine's third-best voodoo doll -- and he's the only one who can rescue her from Kosmo the Inscrutable, a jerk whose greed has turned the Big Easy into a magical nightmare of monsters and goons.

How does a little voodoo doll tackle such a big challenge? By kicking his own butt, of course! Vince's voodoo powers mean that when he gets hurt, his enemies feel the sting. Falling safes, prickly pushpins, bolts of lightning, and dozens of other voodoo attacks bring comical new meaning to the phrase "no pain, no gain."

To rescue Madam Charmaine, Vince must fight his way through 30 detailed levels remastered in high-definition -- from a crawfish-laden swamp and a graveyard crawling with imps and zombies, to a fantastic French Quarter, a network of boggy sewers, and more. This lively bayou adventure also has fun vehicles to drive, mini-games to master, and a catchy jazz soundtrack with updates and remixes by the game's original composer Steve Kirk.

Voodoo Vince: Remastered is available for $14.99 on Xbox One, Steam and the Windows 10 store. The game is voiced in English with subtitles in English, French, German and Spanish. Voodoo Vince: Remastered is also a Xbox Play Anywhere title, which means if you buy it on Xbox One you will be able to play it on Windows 10 and vice versa. Will you be picking it up? Let us know in the comments below.