News: The second downloadable content pack for Infinite Warfare is now available on PS4 with other platforms arriving in approximately one month.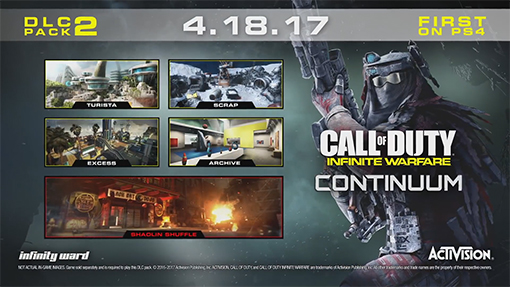 Call of Duty: Infinite Warfare Continuum, the second DLC map pack, is now available on PlayStation 4. Continuum delivers four new maps, including the return of one of the most beloved maps from Modern Warfare 2, Rust, re-imagined for today's generation with an ultramodern look. The new DLC pack also features "Shaolin Shuffle," as actress Pam Grier joins the cast in the new, 1970s New York-inspired zombies experience.

"With Continuum, the team has crafted each map with a distinct feel and different style so that each match brings that immersive gameplay and feeling of teamwork," said Dave Stohl, Studio Head of Infinity Ward. "Shaolin Shuffle takes our zombies co-op experience creatively to a new level. Everything from the disco zombies and character dialogue to the martial arts component is all about taking players to a new and funky setting in another twisted horror film that builds from the original storyline."

Shaolin Shuffle, the next chapter of the Call of Duty: Infinite Warfare zombies experience, features the return of Willard Wyler, the mysterious movie director villain portrayed with voice and likeness by Paul Reubens (Pee-wee's Big Holiday, Gotham). This time, Wyler has trapped the four protagonists inside a new horror film, set in the unforgettable 1970s.

Players face all-new zombie enemies across a variety of disco-era New York locations, including subways, flashy nightclubs and a martial arts dojo headed up by the "Shaolin Sister," played with voice and likeness by Pam Grier (Jackie Brown, Foxy Brown). In addition to hallmark Call of Duty action, Shaolin Shuffle introduces four unlockable fighting styles, each with its own set of unique combat moves. Seth Green (Robot Chicken, Austin Powers) as "the Punk Rocker;" Ike Barinholtz (Neighbors, Suicide Squad) as "the Sleazebag;" Jay Pharoah (Saturday Night Live, Ride Along) as "the Street Poet;" and Sasheer Zamata (Saturday Night Live, Inside Amy Schumer) as "the Disco Chick," all return from the ongoing story in this all-new experience.

In addition to the Shaolin Shuffle, Continuum includes four new multiplayer maps:


Turista – A plush spa and resort, Turista is nestled in the middle of a giant skeleton of an ancient creature. With sniper spots scattered across a majestic, central waterfall, Turista also boasts tight interiors for fans of close-quartered combat and a three-lane design that caters to a variety of play styles.


Scrap – Set in an abandoned junkyard on the Moon, Scrap features a combination of extended sightlines and tactical pathways that reward players who engage in both long and short-range combat.


Archive – Fast, frenetic action sets the pace in Archive, a post-futurist art gallery where tight engagements contrast with open exterior battlegrounds in this wide three-lane style map.


Excess – Perched atop a gilded penthouse in a sprawling future metropolis, Excess is a small, circular map re-imagined from the classic Modern Warfare 2 map, Rust, that retains the intense, fast-paced combat from the original.


The Call of Duty: Infinite Warfare pack is available to download for season pass holders. If you want to buy this a la carte you can do so for $14.99, however, you will save money in the long run if you buy the season pass for $50, instead of potentially paying $60 for everything if you buy them separately. Season pass owners also receive the three new base weapons released to date, as well as 10 Rare Supply Drops and 1,000 bonus Salvage Credits to craft new prototype weapons.

Take a look at the trailer below showcasing the new maps and tell us what you think. Will you be downloading the Call of Duty: Infinite Warfare Continuum DLC?