News: Hot Wheels have entered the world of Forza Horizon and are now available to race around Australia.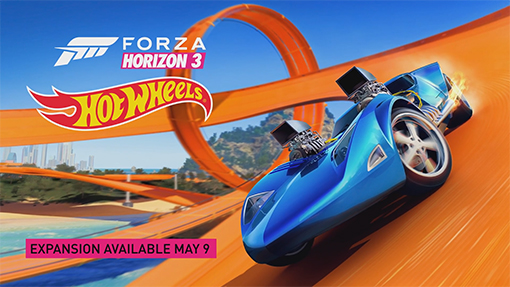 Forza Horizon 3 has a new expansion pack that is now available and it features Hot Wheels. This expansion lets players travel to a brand-new location in Australia, a place where lazy Sunday drives are replaced by insane high-speed stunts on miles of looping, banking, giant iconic orange Hot Wheels tracks. Starring famous Hot Wheels vehicles like the Twin Mill, the Rip Rod, and the Bone Shaker, Forza Horizon 3 Hot Wheels promises an automotive adventure unlike anything in Forza history.

Forza Horizon 3 Hot Wheels takes players to six new themed islands located off the coast of Australia; all connected by a network of Hot Wheels tracks – positioned hundreds of feet in the air – featuring classic Hot Wheels configurations like loops, corkscrews, and more. This is stunt driving at its most extreme, where you can master tracks by performing brand new Hot Wheels skills that make use of boost pads, high-bank turns, half-pipes, insane jumps, and even giant mechanical dinosaurs. If you're looking to get creative, check out the new Stunt Swap feature to modify stunt track sections and dare your friends to try them.

This expansion will have 10 new cars, including a number of Hot Wheels' world famous vehicles, as well as a new Barn Find. The cards that will be included in this expansion include:


1969 Hot Wheels Twin Mill


2011 Hot Wheels Bone Shaker


2012 Hot Wheels Rip Rod


2005 Hot Wheels Ford Mustang


2016 Jeep Trailcat


2016 Zenvo ST1


2007 Toyota Hilux Arctic Trucks AT38


2010 Pagani Zonda R


1972 Chrysler VH Valiant Charger R/T E49


Do you plan on picking up this new expansion pack? If you don't own Forza Horizon 3 you can buy a bundle with this content for $79.99. If you have the game and you bought the expansion pass then you should be able to download this for free. If you don't have the expansion pass and want to buy this a la carte it is available for $19.99. Check out the trailer below and tell us what you think.