News: Get your game on with 2 on 2 action using the stars of today alongside some NBA legends.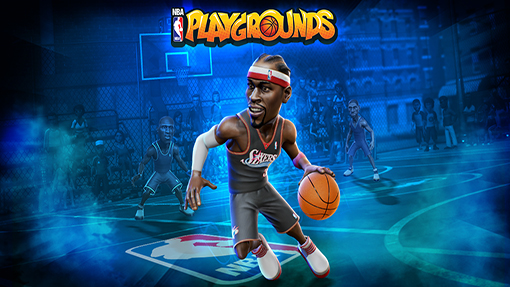 For the first time in years, there's a newcomer to the 2-on-2 basketball scene. NBA Playgrounds sports all 30 NBA teams and a deep roster of current and retired NBA players that you can level up over time, including Allen Iverson, LeBron James, Stephen Curry, Shaquille O'Neal, Russell Westbrook, James Harden and Magic Johnson. Show your flair with over-the-top moves and all sorts of show-stopping dunks. Play two-player offline co-op, two-player online competitive, four-player offline team matches, or just go solo. NBA Playgrounds also supports single-player and local co-op tournament play, with online tournaments coming in a future free update.

NBA Playgrounds features power-ups, collectible cards, special techniques, a killer hip-hop soundtrack, and a lottery pick system that rewards great play. Arcade basketball legend Ian Eagle of NBA Jam fame returns for NBA Playgrounds, delivering the same one-of-a-kind bombastic announcements fans loved in arcades past. E.J. "The Mayor" Johnson, the voice of Rucker Park, also provides color commentary.

NBA Playgrounds is available on Nintendo Switch, Xbox One, PS4 and PC. It should be noted that Saber Interactive said that the online functionality for the Switch version isn't currently available but it will be released via a update in a few days. Check out the trailer below and tell us what you think. Will you be getting NBA Playgrounds?