News: A new gameplay trailer has just been released showing off some of the remastered Zombie action that is releasing on PS4 next week.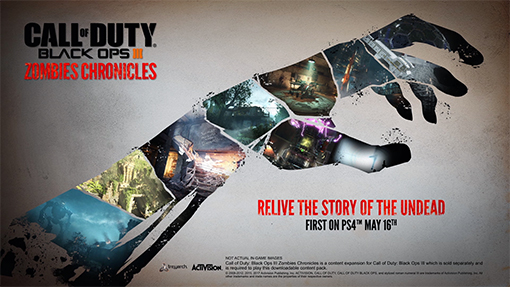 Call of Duty: Black Ops III Zombies Chronicles will arrive on PS4 next week. Earlier today Activision released a new trailer showcasing some of the gameplay that you will experience with these remastered maps. The maps have been completely remastered from the ground-up, delivering many of the classic, thrilling Zombies origins storylines with stunning visuals, enhanced audio and new gameplay, all updated for today's generation of consoles.

"Call of Duty's Zombies has earned a special place in our hearts through its deep, layered gameplay, imaginative storylines and its compelling waves of action, which spans multiple titles," said Rob Kostich, EVP and General Manager of Call of Duty, Activision. "We're excited to share with fans these incredible moments in one comprehensive offering, available together on current generation hardware."

The eight maps in Zombies Chronicles are:

From Call of Duty: World at War: Nacht der Untoten (Abandoned Bunker), Verruckt (Wittenau Sanitorium) and Shi No Numa (Jungle Swamp)

From Call of Duty: Black Ops: Kino Der Toten (Theater of the Dead), Ascension (Soviet Cosmodrome), Shangri-la (Exotic Jungle Shrine) and Moon (Lunar Base)

From Call of Duty: Black Ops II: Origins (WWI France)

Call of Duty: Black Ops III Zombies Chronicles will be available for $29.99 and is an expansion for Call of Duty: Black Ops III. That means that you will indeed need Black Ops III to play this new content. Check out the new trailer below and tell us what you think. It should be available on other platforms approximately 30 days after being released on the PlayStation 4.