News: Due to some music licensing issues Alan Wake will be taken down tomorrow so be sure to buy it now for super cheap while you can.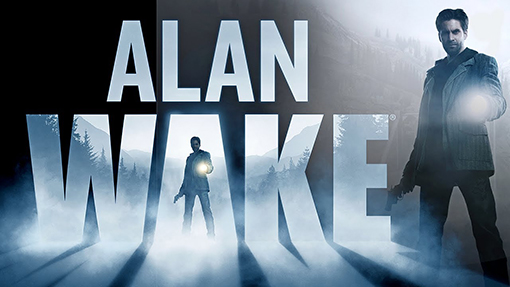 Alan Wake will be leaving Steam and Xbox Live tomorrow (Monday, May 15) due to a music licensing issue. This isn't the only time this has happened with a game and hopefully it is just temporary. It should be immediately stated that if you have bought Alan Wake that you will still own the game and you should still be able to download off of Steam and Xbox Live if you uninstall the game. You just won't be able to buy it anymore after tomorrow. It should also be noted that both Alan Wake and Alan Wake's American Nightmare are backwards compatible on Xbox One.

The development team at Remedy is currently looking into re-licensing the music but who knows how long that will take. Due to Alan Wake leaving both services tomorrow Remedy is holding a massive sale on the franchise on Steam so that those who haven't picked it up can do so at almost no cost.


Alan Wake - $2.99


Alan Wake's American Nightmare - $0.99


Alan Wake Collector's Edition Extras - $0.99


Alan Wake Franchise - $3.99


Alan Wake Bonus Materials - Free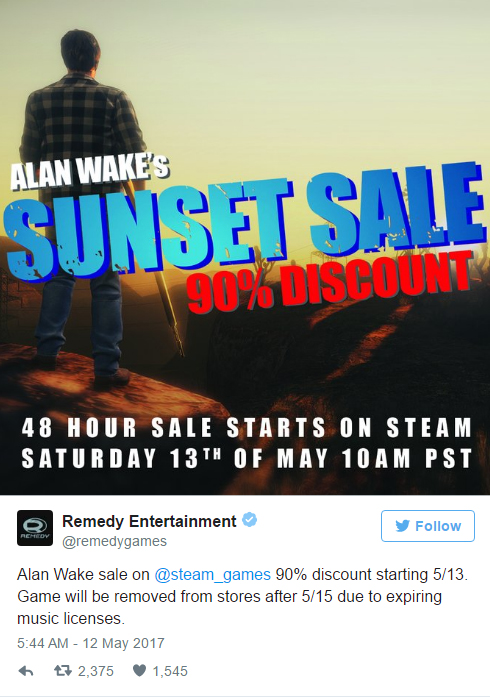 As you can see there is some additional content to complement the games as well. Each of those packs contains the following:
Alan Wake Collector's Edition Extras
Developer Commentary Videos
130 Page Illustrated PDF Book
Soundtrack - 49 minutes of fully mastered tracks in 320kbps MP3 format
Alan Wake Bonus Materials
Bonus Videos - Early demo videos, making of documentaries, the story of Remedy, Balance Slays The Demon music video and a clip from the Harry Garrett Show
Visual Exploration - Alan Wake's visual identity guidelines, concept art, production photos, high resolution wallpapers and printable cardboard cutout characters
Graphic Novels - Two graphic novels set in the world of Alan Wake titled Night Springs and Psycho Thriller, with stories by Sam Lake and Mikko Rautalahti
Note By Note - The soundtrack of Alan Wake's American Nightmare and sheet music of Alan Wake, both composed by Petri Alanko
Lost Pages - The complete Alan Wake screenplay and also scripts of The Writer and The Signal, narrations, Mr. Scratch videos, radio shows and manuscript pages
Be sure to pick up Alan Wake while you still can. It is an amazing game and, hopefully, we'll see a sequel down the road. If you aren't familiar with the franchise then take a look at the trailers below and remember to pick these games up before they leave Steam and Xbox Live tomorrow.