News: The Game Pass service will launch for everyone soon but for now Gold members are getting early access.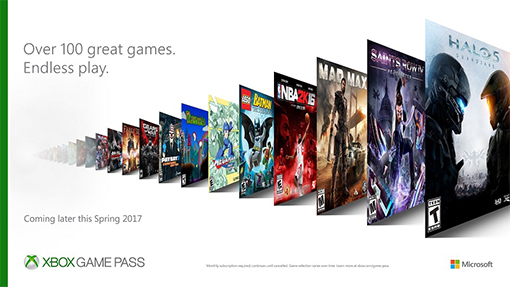 Microsoft has revealed that the brand new Game Pass service will launch on June 1 for everyone but Xbox Live Gold members will get early access beginning today. For those who might not be familiar with Game Pass it is a new service from Microsoft that gives you unlimited access to over 100 Xbox One and Xbox 360 backwards compatible games for only $9.99 a month. One important note is that you do not have to stream your games. You simply pick the game you want, download it to your console and then play the game as if you own it. If you are curious about this new program but aren't quite sure about it there is a 14 day free trial so you can test it out and see if the service is right for you. For $9.99 a month though and a selection of over 100 titles there will undoubtedly be something for everyone.

If you choose to subscribe to Game Pass (or start your free trial) you can do so at xbox.com/game-pass or on your Xbox One console. There will be a way to purchase a membership at retail stores at well but that will come later this year. Here is just a small sampling of the games that are a part of Game Pass for the launch:


Halo 5: Guardians


NBA 2K16


Payday 2


LEGO Batman


Banjo Kazooie


Viva Pinata


Mega Man Legacy Collection


Streets of Rage


Pac-Man Championship Edition


Bioshock franchise


Gears of War 1-3


Gears of War Ultimate


Perfect Dark Zero


Borderlands


Saints Row IV: Re-Elected


XCOM: Enemy Within


Mad Max


Resident Evil 0


This is just a short example of the games that are available as part of this new service. Each month Microsoft will add a new set of games to the catalog so there should always be something new to play.

Another benefit to becoming an Game Pass member is the discounts that you will receive. You will be able to purchase all Xbox One games in the catalog and their related DLC at an exclusive discount allowing you to make them part of your permanent library.

If Game Pass has piqued your interest and you want to see the full list of titles that are currently available, click here. Otherwise take a look at the video below and tell us what you think. Will you give Game Pass a try? Do you think it is worth it for $9.99 a month?