News: Micro Machines is back and will hit you with a serious case of nostalgia as to try and learn all of the tracks.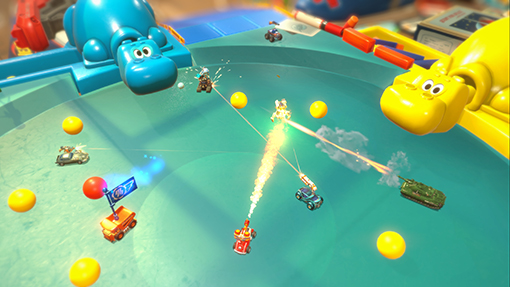 Micro Machines World Series is now available on Xbox One, PS4 and Steam. The iconic series makes a return with a mixture of fan-favorite and all-new content that will delight players of all ages. Classic game modes Race and Elimination are complimented by an all-new Battle mode, which ramps up the carnage to the highest end of the miniature scale.

Supporting up to 12 players for online multiplayer and one to four players locally, Micro Machines World Series gives you 12 amazing customizable vehicles to race and battle across 25 classic locations including the kitchen table, garden, workshop and game room.

With spy cars, hovercrafts, dump trucks, tanks and more, Micro Machines World Series lets you equip a unique loadout and collect a range of crazy Nerf power ups and collectibles such as blasters, mines, hammers and bombs to get the best of your opponents.

Micro Machines World Series combines gaming nostalgia with modern visuals and some great replayability with friends. Check out the launch trailer below and tell us what you think. Will you be picking up Micro Machines World Series?