News: A new trailer is now available for F1 2017 showing off one of the four shortened circuit variations in the game.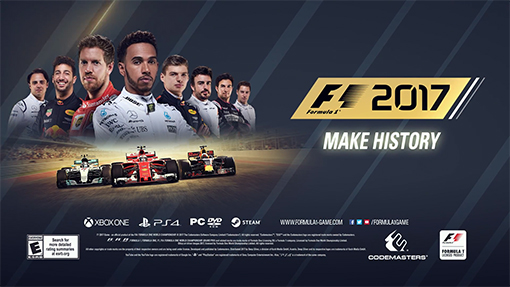 F1 2017 is going to be released next month but we have a new trailer for you now to whet your appetite. The trailer showcases Max Verstappen playing F1 2017 in the stunning 'Hall of Fame' at Red Bull Racing Headquarters in Milton Keynes, United Kingdom, ahead of the 2017 Formula 1 Rolex British Grand Prix this weekend at the iconic Silverstone circuit.

In a first for the Codemasters F1 series, in addition to all 20 official 2017 circuits being present in the new game, F1 2017 will also include four shortened circuit variations, including 'Silverstone Short', on which Max Verstappen drove the 2017 Red Bull Racing RB13 and also the classic 2010 Red Bull Racing RB6 during his time with the new game recently.

Max said of his experience playing the new F1 2017 game, "I really like the game and it is a lot more fun to drive with the new cars. The graphics are a lot better, they've made the cars more realistic, and that's always good. I like the detail on the classic cars involved and it's always nice to drive those old legendary cars. I think it's a great game, it's definitely a lot of fun to play."

In the trailer Verstappen also comments on how the two cars feel to him compared to his real-life experiences, "The 2017 RB13 feels really good in the game with the extra grip from the new 2017 car designs as well as from the wider tires, resulting in faster cornering speeds which require more precision. In comparison, the classic RB6 is lighter, with a slower top speed, and later braking, and of course the biggest stand out being the sound of the engine."

In the trailer Verstappen approaches the Silverstone Short circuit in trademark fashion, and sets a new fastest lap. The four shortened circuit variations are available in all game modes, and can be raced with either the 2017 or classic cars.

F1 2017 will come to Xbox One, PS4 and PC on August 25. Take a look at the trailer below and tell us what you think. Will you be picking it up?