News: Another Nintendo 2DS bundle will arrive in stores next month with New Super Mario Bros 2 included.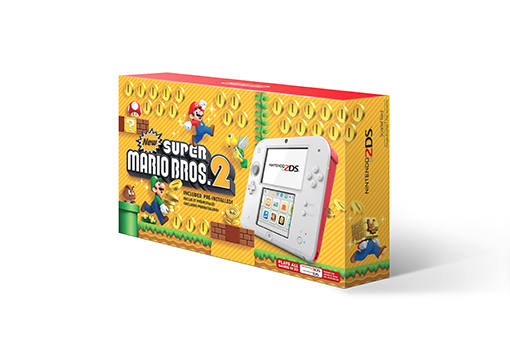 Nintendo has revealed that there will be a Nintendo 2DS bundle that is being released next month for $79.99. It includes New Super Mario Bros 2 and, no, it is not the New Nintendo 2DS. On August 25 the white and red system with New Super Mario Bros 2 pre-installed will hit store shelves. In addition to that there are also new games that can be played on the 2DS such as Hey! Pikmin and Miitopia. Of course there hundreds of other games as well from franchises like Mario, Zelda, Pokemon and much more.

"Nintendo 2DS is the ideal system for parents that want to introduce their kids to the creative world of Nintendo that they grew up with," said Doug Bowser, Nintendo of America's Senior Vice President of Sales and Marketing. "Its budget-friendly price and huge library of games will provide hours of entertainment for the whole family – whether after school, on the weekends or even while traveling."

This fall is packed with a variety of new games (in addition to the existing library of games), which can be played on any system in the extended Nintendo 3DS family, including in 2D on Nintendo 2DS. Monster Hunter Stories, the next game in the hit Monster Hunter series, launches on Sept. 8; Metroid: Samus Returns, the return of legendary bounty hunter Samus Aran, launches on Sept. 15; and the wackiest Yo-kai adventure yet, YO-KAI WATCH 2: Psychic Specters, launches on Sept. 29.

Monster Hunter Stories serves as an introduction to the popular franchise, which finds you discovering and customizing the skills of a wide variety of fantastical beasts. A free demo for Monster Hunter Stories will be available in Nintendo eShop on Nintendo 3DS on Aug. 10.

Bounty hunter Samus Aran is back in the Metroid: Samus Returns game, a side-scrolling adventure full of hidden pathways and underground chambers that lead you into the depths of a hostile alien planet. The game features immersive 3D visuals, powerful weapons, and special moves and abilities.

Whether you or your family missed it the first time or want to fall in love again, the YO-KAI WATCH 2: Psychic Specters game delivers the full YO-KAI WATCH 2 experience and a variety of new features, including new Yo-kai to befriend, exclusive quests and the ability to hop on the Hexpress to a new resort area. Players who already own YO-KAI WATCH 2: Bony Spirits or YO-KAI WATCH 2: Fleshy Souls can also transfer their save data to pick up where they left off.

Check out the trailers below and tell us what you think. Will you be picking up this Nintendo 2DS bundle? How about the games mentioned above?