Reviews: Embark on an adventure in a space station where you find out not only what happened but also how people lived on the station.
When Fullbright released Gone Home 4 years ago it sparked a lot of conversation about storytelling in video games and even some debate about what a video game actually is by definition. Any game that leaves that sort of impression seems like it would be tough to follow but I'm happy to say that Tacoma delivers in ways that I didn't see coming and thoroughly enjoyed.
The opening minutes of Tacoma set up your player character named Amy Ferrier with the task of retrieving the onboard AI of the space station Tacoma. Once aboard you'll start to come across a series of holographic "scenes" that play out in real space. Your ability to fast forward and rewind these scenes as you walk around allows you to see every interaction between one set of characters and then go back and see what the others were up to during that same time frame. This method of storytelling makes the narrative feel player driven and organic despite the fact you have no control over what actually happens to the characters.
Critically the writing is superb throughout the 3 or so hours you'll spend with Tacoma and the excellent voice work goes a long way towards making you care about people that aren't really there. You'll get moments of group solidarity and humor as well as tender moments of someone dealing with their fears and frustrations on their own or with a friend. It's a story that is small and personal but also ties to some larger scale plot points that are interwoven in a way that is compelling to experience and to discover. This is partly due to the fact that there's so much character in the environment itself. I was consistently rewarded for going through personal logs and belongings by getting a better sense of each crew member's personal story, struggle and motivations. The subtle foreshadowing of events you've yet to discover also came together for me by the time the credits rolled in a way I didn't expect and found very satisfying.
To say that Tacoma's looks are simplistic might sound like a knock but it's genuinely to it's benefit. The elegance of it means I could always immediately identify where I was, which character I was watching or where I should go next. This is thanks to everybody having a specific color coding and icon attached to them that makes it immediately clear who's who in messages between crew members you find or personal quarters for each crew member. I never found it difficult to figure out what to look at or do next thanks to a UI that defines everything very clearly and simply.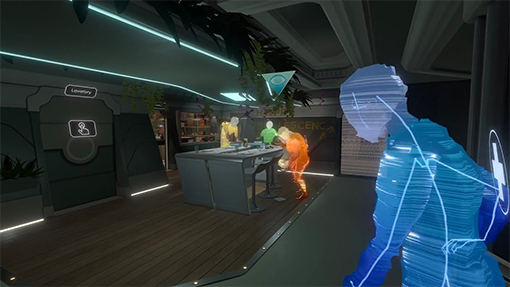 If you've explored the station thoroughly there's not much left to do once you wrap up Tacoma's story but there are some achievements around finding specific things in each area that you might not look at otherwise. I am probably going to go back and see if there are any other hints at what's to come later in the story now that I have the full picture but it's also a game that's short enough that I expect I'll replay it just to experience it's story again.
Tacoma is a smart, focused and compelling tale about a very human struggle. It's commentary on the themes that it deals with are complex yet simple to understand and it achieves that balance without leaning on heavy handed exposition as a crutch to get it's point across. The result is a game that gives you exactly as much as you put into it and for that, I love it.