Reviews: Yakuza Kiwami is how a re-release should be done with Sega going over every inch of the PS2 title to make it feel at home on the PS4.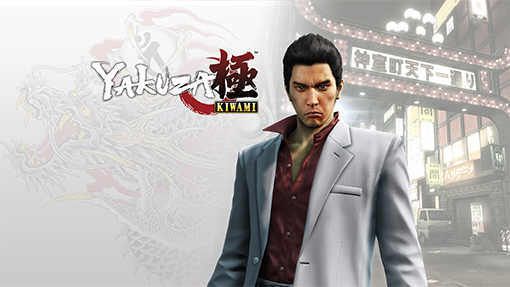 For better or worse this generation of consoles has brought with it an extraordinary number of old games that have been updated and resold with varying degrees added value. I'm happy to say that Yakuza Kiwami falls within the upper tier of that category of games as the amount of effort that has been put into making it feel like it belongs on the PS4 is evident across every aspect of the game.
The story of Yakuza follows Kazuma Kiryu, dubbed the "Dragon of Dojima" It's 1995 and Kiryu finds himself in a situation where he decides to take the blame for the killing of the Dojima family patriarch in order to protect his sworn brother Nishikiyama and childhood friend Yumi. 10 years pass before Kiryu makes parole and returns to a city he must get reacquainted with. 10 billion Yen has gone missing and the various families of the Tojo Clan are on the brink of war over it. From here the story unfolds over the course of 13 chapters as Kiryu works to find out what happened to Yumi, the missing money and his friends and mentors while he was locked away. The story is good and provides plenty of twists and turns with a cast of characters that all feel like they have their own genuine motivations that Kiryu must navigate in order to get them to help him. Not always easy in a city where it seems like everybody wants to fight you.
As an action RPG your time is going to be well balanced between conversations with people, combat and whatever side stories and mini-game activities you decide to engage in. The original Japanese voice over has been re-recorded by the cast of the series and an almost 30 minutes of cutscenes have been added both to flesh out the plot of the game and create additional ties to the prequel Yakuza 0. The cutscenes look fantastic and provide some truly great moments for the characters throughout the 25 or so hour story. That play time starts to go up quickly as you spend time doing side missions and exploring the city's myriad of restaurants, shops, clubs and many mini games. While the map size is fairly small it has a detail, density and life to it that ensured I always felt like there was something happening around me that I wanted to engage with. You can earn cash by winning fights with people, which will happen randomly as the streets various gangs and hoods decide they want to pick a fight with the Dragon of Dojima. They're a bit like the random encounters you'd expect in a traditional JRPG but it's worth noting that they can usually be avoided by running away if you're in a hurry to get somewhere. The other primary means of earning Yen is in the dozens of side missions available. There are 78 total and they range from short conversations with people that need help to elaborate rip-off scams that Kiryu ought to be entirely too old to fall for. The writing is strong throughout even though not all of these situations have full voice acting, which are reserved primarily for story missions and cutscenes.
Combat feels good and has been updated to the feel introduced in Yakuza 0. There are several fight styles to switch to on the fly and each has a set of upgrades to make them more effective over time. The Rush style focuses on quick movement and hit but sacrifices the impact you'll have with other styles. Brawl is an all around and balanced style that is suitable for most situations and Beast slows down movement in favor of wide arc and heavy hitting swings that can engage multiple enemies at once and helps you stand up to hits that would knock you down in other styles. Finally Kiryu's signature Dragon style will upgrade over along with the new "Majima Everywhere" system. Goro Majima serves as Kiryu's chief rival throughout the game and his desire to build Kiryu up to the level he was before prison will manifest in random encounters with him all game long. He can appear anytime and anywhere and his character provides some moments both funny and bizarre. Most importantly winning fights against him will provide upgrades to Kiryu's Dragon style of combat.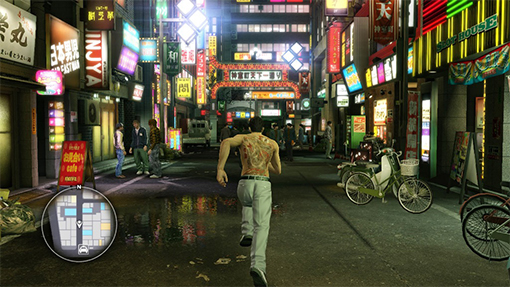 The melee combat is both simple to grasp but has enough depth in upgrades and situational use that it's fun to master against bosses or higher difficulty settings. Nailing down when you should block and weave or sidestep and attack is especially rewarding against the game's many boss fights. You'll have to learn and react to their changing tactics by switching up fight styles mid fight and balancing when to be defensive or aggressive. Even when you're not fighting a boss character you'll frequently be in a position where you'll have to take on crowds of guys that are often heavily armed. Utilizing different techniques and the objects in the environment become a must when dealing with a dozen or so bad guys. Your heat meter can be used to deal with lower tier enemies quickly or to take big chunks out of the health of stronger characters. You'll charge up your heat meter with successful hits and lose some when taking hits. Once fully charged you can unleash powerful and situational attacks against foes. This might range from slamming a guy's head into a nearby wall or bringing a piece of the environment down on top of them. It's a combat loop that constantly makes Kiryu feel powerful and ready to take on anybody.
If you're not fighting or advancing the story you're probably going to be playing around in the the city's many mini-games. You can play darts, billiards, mahjong, karaoke, slot car racing, and more. Several of them rely on rather simplistic timed button presses but others feature a range of different ways to play them. Darts and pool for example have several different games each that you can play both by yourself, against the computer with several difficulty settings or against another player if you choose the option off the main menu. No matter what you decide you like doing in the game Yakuza ensures that you have plenty to choose from. It's also worth noting that outside of the main game there is a New Game+ that opens up once you finish the story, a "Premium Adventure" mode which allows you to explore without worrying about the story and Climax Battles which are combat challenges with a particular goal. Some might be timed while others challenge you to finish the fight without getting knocked down once.
Kiwami means extreme. That's the theme of this remade version of the first Yakuza game that originally debuted on the PS2. While the core of what made the original game special is there it would be disingenuous to refer to it as a simple remaster. Every facet of the game has been given enough of a facelift that it looks and feels right at home on the PS4 in 2017. Yakuza Kiwami takes some of the mechanics from Yakuza 0 and went over every inch of the PS2 classic to improve and expand on what was already a well loved title. Whether you've never played a Yakuza game before or are looking to relive the story that started the franchise then Yakuza Kiwami is certainly worth a look.