News: A new open world motorcycle combat game is on the way where you will have to fight your way to become club president.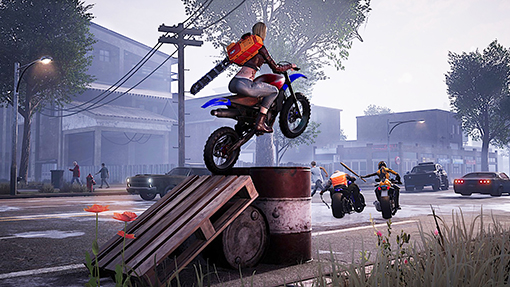 Road Rage is going to be arriving on consoles and PC in October according to Maximum Games. Road Rage is an over-the-top, knock-down-drag-out motorcycle combat game that tests your skill on a range of badass bikes. Race, fight, and hustle your way through the ranks of an insane outlaw motorcycle gang. In a town torn apart by violence and underground crime, the key to surviving is earning money and riding fast.

Use various bikes, weapons, and battle maneuvers to propel you into a position of ultimate authority. Push the limits of combat racing, exploring a huge open-world and playing over 90 missions that will offer the opportunity to progress to Club President.

Some of the key features in Road Rage will include:


Extensive Gameplay Variety - Play 42 story-driven missions and 56 additional side missions ranging from delivery and escort jobs to combat races to all-out gang brawls.


Open-World Exploration - Joyride around a massive city and discover a wide variety of missions and objectives throughout its distinctive neighborhoods.


Insane Weaponry - Equip yourself with a range of weapons for knock-down-drag-out encounters with rivals on the road.


Ride in Style - Choose from a variety of motorcycles and customize your bike to suit your style.


Check out the open world trailer below and tell us what you think. Road Rage will be available on October 24 on Xbox One, PS4 and PC for $29.99. Will you be picking it up?