News: A new Nintendo 2DS model is coming to the market in November that features one of Nintendo's most popular franchises.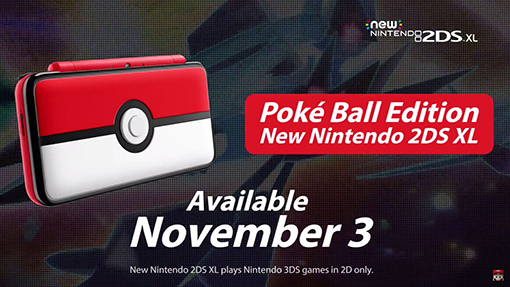 During the recent Nintendo Direct presentation Nintendo revealed that a new 2DS model will be coming out this fall. This model is sure to sell like hot cakes with it basically looking like a Pokeball. The hit mobile title Pokemon Go has shown over the past year that Pokemon fever is still alive and well and this will only stoke that flame. I fully expect this model to be hard to find, much like the Nintendo Switch will be this holiday season.

Nintendo revealed that the Pokeball 2DS unit will release on November 3rd but they didn't give us a price point. Most Nintendo 2DS XL units retail for around the $149.99 mark. I expect the price for this Pokeball 2DS might be a little bit more than that because it is a special edition. It might even come with a Pokemon game on it but that is 100% speculation on my part.

Will you be picking up this Pokeball 2DS unit? If not, do you know someone else who will be picking it up? Tell us what you think below.