News: A new Nintendo Switch bundle will be released next month to coincide with the release of Super Mario Odyssey.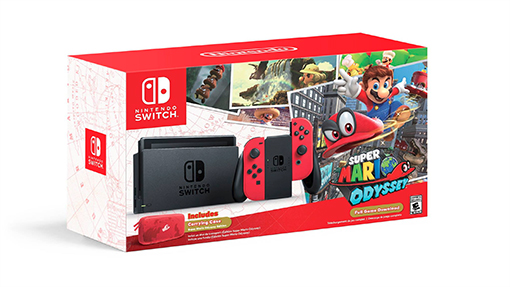 The Nintendo Switch is getting a Super Mario Odyssey Bundle. If you have been waiting to pick up a Nintendo Switch until the release of Mario's newest adventure, this is the time to do it. This new bundle will be released on October 27 alongside the game. This new Super Mario Bundle will sell for $379.99 and will include the following:


Nintendo Switch console


Mario-themed Joy-Con controllers


Download code for Super Mario Odyssey


In addition to the Super Mario Odyssey bundle there will also be Super Mario Odyssey amiibo. These were revealed prior to today's Direct but during the video presentation we learned what each amiibo will do in the game. By using the Wedding Mario amiibo you will gain temporary invincibility in Super Mario Odyssey. If you use the Peach Wedding outfit amiibo it will grant you a life-up heart. If you use the Bowser Wedding amiibo it will reveal regional coin locations.

Super Mario Odyssey will arrive on October 27th. The Super Mario Odyssey Nintendo Switch Bundle will arrive on that same day. The Super Mario Odyssey amiibo will also arrive in stores on October 27. Have you picked up a Switch yet or will you try and get this special Super Mario Odyssey edition? If you already have a Switch, will you be picking up Super Mario Odyssey?