News: A new parallel puzzle game is headed to Sony's portable device next month with both a physical and digital version.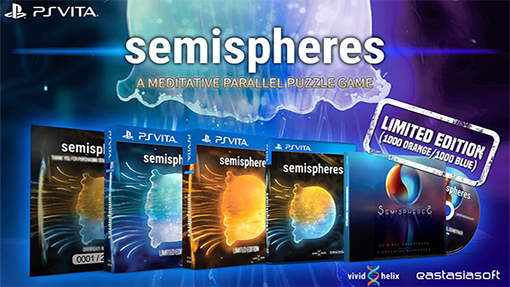 Semispheres is coming to the PlayStation Vita. In partnership with Vivid Helix, EastAsiaSoft will launch the meditative parallel puzzle game Semispheres on October 10 in North America and Asia and then on October 11 in Europe. Semispheres will be published by EastAsiaSoft in Europe (digital) and Asia (digital/physical) and by Vivid Helix in North America and Japan. It will be available digitally at US$9.99/€9.99. The physical Limited Edition will be sold at a special pre-order price of US$24.99

Semispheres is a beautiful, 2D puzzle game, with a gorgeous, synth-led soundtrack by Sid Barnhoorn, composer of Antichamber and The Stanley Parable, that places dual realities at the heart of its challenge. Featuring a bichromatic art style comprised of warm blues and oranges, it's a game that seeks to reunite two parallel worlds.

If you want to try and secure one of the limited edition copies there are only going to be 1,000 orange and 1,000 blue made. The Semispheres Limited Edition will be sold exclusively at PlayAsia.com and contains the following items:


Semispheres PS Vita game


16 pages game manual


Soundtrack CD


Individually numbered certificate


Collector's box (orange/blue versions)


Take a look at a trailer for Semispheres below so you know what to expect and tell us what you think. Will you be picking it up on PlayStation Vita?