News: Nintendo Switch owners are going to get another award winning indie title early next month.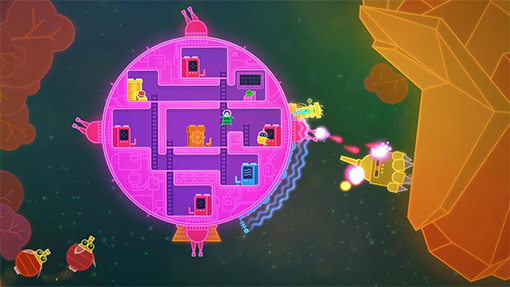 Lovers in a Dangerous Spacetime is headed to Nintendo Switch. A natural fit for Nintendo Switch, Lovers in a Dangerous Spacetime features frenzied action that forces friends, family members and loved ones to work together while switching back-and-forth between manning the spacecraft's controls, weapons and defenses against dastardly alien robots. Those looking to take on Lovers' perilous campaigns solo can do so with a trusty AI space dog or cat by their side to aid in efforts.

"When we first learned about Nintendo Switch we knew we wanted to bring Lovers to the platform," said Jamie Tucker, Co-Founder of Asteroid Base. "Lovers is a perfect fit for Nintendo Switch and the game's chaotic co-op experience and vibrant art make for a compelling experience for the whole family."

Set in a colorful universe, Lovers in a Dangerous Spacetime offers players an array of weapons with which to battle enemies while avoiding galactic forces of nature and rescuing kidnapped space bunnies, frogs and other charming creatures from the evil forces of Anti-Love. Players shouldn't be fooled by the cute aesthetic, Lovers in a Dangerous Spacetime features challenging gameplay that will test gamers of all skill levels, including difficulty modes from Beginner to Veteran.

Lovers in a Dangerous Spacetime will arrive in the Nintendo Switch eShop on October 3 and will go for $14.99. Check out the reveal trailer below and tell us what you think. Will you be purchasing Lovers in a Dangerous Spacetime on Nintendo's new console?