Reviews: Steamworld Dig 2 is a great follow up to the original with some nice enhancements that makes it hard to put down.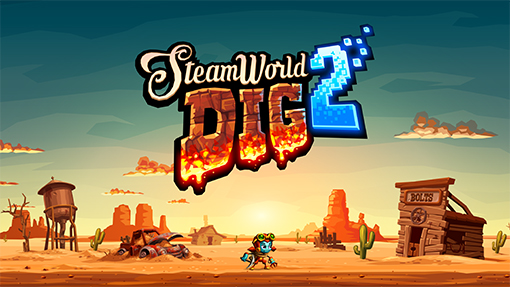 Ideally a sequel should take the best of what came before and expand on it in ways that make it's core formula feel fresh and new again. Thanks to a myriad of new upgrades, systems and environments in Steamworld Dig 2 Image & Form has without a doubt made a worthy sequel to the one of the best Metroid-like games of the past several years.
You take control of Dorothy who sets out to discover what happened to Rusty, the protagonist of the first Steamworld Dig. She'll soon find her way to the town of El Machino whose inhabitants are concerned with a series of mysterious earthquakes that threaten to destroy the town. With the help of a few townsfolk and in spite of the clueless mayor she learns that a mysterious miner has disappeared within the town mine and hasn't been heard from since. That's all Dorothy
needs to hear and she gets set to dig out the truth.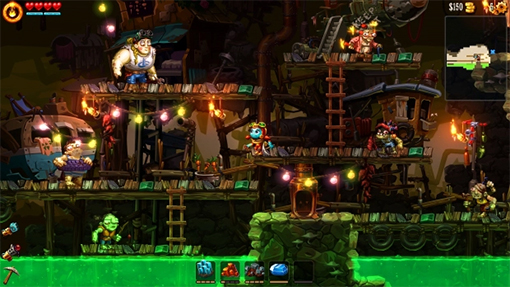 The mines of El Machino are filled with riches, mysteries and danger and it won't take long before you're hooked by it's addicting loop of digging, filling your pockets and returning to town to spend your earnings on upgrades. These upgrades will inevitably allow you to dig deeper, keep your lantern on longer and come back with more loot. That may sound a lot like the first game and that's because at it's core it is. The devil is in the details though and Dig 2 sports a much expanded upgrade system that encourages exploration and discovery of it's many hidden cogs and artifacts that are used to unlock equipment mods and new blueprints respectively. These mods can do everything from extra damage to resource tiles or become more resistant to fall damage and unfortunate landings in acid and lava. There's dozens of these mods and each takes a set number of cogs activate. It's a system that encourages experimentation however as you can swap these mods out and get your cog points back any time you stop at the town work bench. This ensured I never felt agonized about how I spent my points because I knew I could get them back if I needed to use something different. You can buy these mods at an ever increasing price but you'll probably find most of them down in the mines. Some are easier to grab than others but they're almost all tucked away in either hidden corners or behind some really clever and interesting puzzles and platforming challenges. I won't spoil them here as part of the fun is in discovery, both in their concepts and the tools you'll need to best them.
This series of upgrades and even it's sparsely but effectively told story all served to make me want to keep playing. I was constantly rewarded with new upgrades or clues to what was going on with the earthquakes and it made it addicting to get to that next milestone that's just around the corner. The game is hard to put down and I finished it in 2 sittings of about 4 hours each. There's probably a fair bit more time than that to be had with it if you go for all the collectibles though as there's dozens of artifacts and cogs to be found. During your play you'll be treated to a game that has seen a noticeable upgrade to it's visuals and sound. There are several distinct looking environments that expand past just the mine that's under El Machino and they all have layers of depth to them that are a treat to look at. There's a depth in both color and the way pieces of the background pan with your movements that ensure that you never feel like you're looking at static spaces. Lighting is critical to your exploration and fire from background torches and your lantern glow and dance in a way that has volume to it. It's equal parts beautiful as functional as more light means you can see what's hidden in more rock, helping you discover secrets, treasures and avoid hidden dangers.
Metroidvania style platformers have become increasingly more common over the last few years but Image & Form has proved yet again that they are among the very best at delivering and expanding on this style of action and puzzle platformer. With gorgeous visuals, a story that ties to the other games in the Steamworld series and a positively addicting set of gameplay hooks, Steamworld Dig 2 is without a doubt one of the best games you can buy on the Nintendo Switch right now and soon on other platforms. Don't miss it.