Previews: Assassin's Creed Origins changes some things up with this new entry in the popular franchise.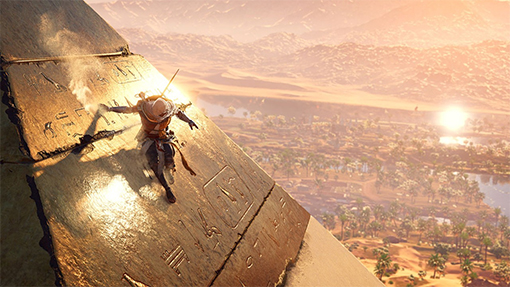 I have been a big Assassin's Creed fan for many years. When I first learned about the setting for Assassin's Creed Origins I was excited to see what they would do and how they would handle the time period. After playing it a couple of different times at different events I have been happy with what I have seen so far. I have gone through two story missions at the aforementioned events which introduced me to the main character as well as some of the other people you will run across. I don't want to get any more specific than that and risk posting a spoiler.
These missions had me using my new friend, Senu. Senu is the eagle that will help you throughout your adventure, an iconic symbol and animal in the Assassin's Creed franchise. You can use Senu to explore an area so that you can get a grasp on important details, such as how many enemies are in an area. One of the missions that I played had me rescuing a young child who had been kidnapped. He was being kept in this fort so before I scaled the walls I sent Senu to investigate. Once in control of Senu I flew over the fort and marked all of the enemies that I saw so that once I was back on the ground I knew where my opposition would be. I marked the child to so that I knew where I had to go to rescue him. Now of course you don't have to do any of this and you can run in with guns blazing, so to speak. For me personally though I like to scout locations and come up with a plan of attack before jumping in.
One of the things I immediately noticed in Assassin's Creed Origins is that it controls a bit differently. I used to be able to hold down the right trigger button to sprint but that isn't the case in this title. The right bumper and right trigger are now used for combat while you can use the left trigger to bring up your bow. The face buttons on the controller are jumping, parrying and dodging. The combat seems to work and flow better with this new system but old habits are hard to break. After playing Assassin's Creed games for the past 10 years there were many times during my demo sessions where I would push down on the right trigger to try and sprint. That muscle memory would instinctively hit that button from time to time and I suspect some others will have this same issue initially. I will eventually get used to using the right trigger for combat purposes and enjoyed doing so in the demo...it will just take some time to break the habit of pushing that button to sprint.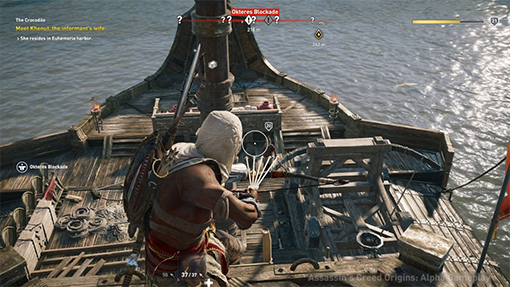 While the combat has been changed up you can still assassinate people the good old fashioned way. There were many enemies I was able to sneak up on and silently assassinate them before they knew what was happening. During my brief time with this game I solved some puzzles and explored one of the cities. I got on my horse and raced across the desert to whatever objective I was tackling next. You can even steal someone else's horse if you need to. In addition to that there are also camels in the game that you can ride so if for whatever reason you don't like your horse, grab a came. I climbed up some pyramids and went inside to solve riddles, some more difficult than others. One of these pyramids had a "Zelda-esque" puzzle in it which clicked for me instantly and allowed me to get through it fairly quickly. I have no doubt that other puzzles in the game will give me more of a challenge.
In addition to all of that Assassin's Creed Origins has a nice sized skill tree. You can develop your character how you see fit with there being a "Master Hunter," "Master Warrior," and "Master Seer" classes to choose from. One of the items that you can upgrade in the Master Hunter class, for example, is the ability to equip a second bow which allows you to fire multiple bows at an enemy. Additionally there is a nice RPG system in place where you can level up the amount of damage your equipment does, the amount of protection something like a shield gives you and more.
Assassin's Creed Origins looks like it is going to be a fun game. It also looks like it has a really big map that will keep you busy for quite a while. Add to that the RPG mechanics and the skill tree and everything else and completionists will have their hands full. Assassin's Creed Origins is slated to be released next month on October 27.