News: KontrolFreek is jumping on the Nintendo Switch train to try and give you better control over some of the biggest games on Nintendo's platform.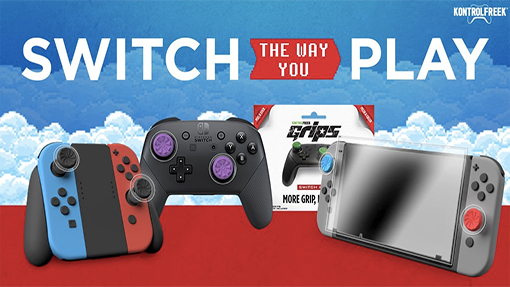 The Nintendo Switch has had an incredible start this year and now KontrolFreek wants to get in on the action. KontrolFreek has announced a line of premium accessories for the Switch aimed at improving the gameplay experience, especially when using the smaller Joy-Con controllers. The flagship product in the company's Nintendo Switch line is KontrolFreek Turbo. This Performance Thumbstick set adds 83 percent more surface area and 4.4mm of height to standard Switch Joy-Con thumbsticks for more comfortable and precise gameplay experiences. Key product features include:


Available in black and neon red/blue color variants


Uses KontrolFreek's proprietary composite material to create a strong, versatile grip that helps reduce wrist, hand and thumb fatigue.


Designed for use in games like Super Mario Odyssey, Mario Kart 8, The Legend of Zelda: Breath of the Wild and Splatoon 2.


Additional products in KontrolFreek's Nintendo Switch line include the following:


FPS Freek Thumbstick Sets for Nintendo Switch Pro Controller - KontrolFreek now offers three of its best-selling legacy Performance Thumbstick sets for Nintendo Switch Pro Controllers, including FPS Freek Inferno, FPS Freek Galaxy and FPS Freek CQC Signature. Each set adds varying degrees of thumbstick height to increase range of motion and improve precision, ensuring players are better equipped for navigating difficult platforming sections in Super Mario Odyssey or "inking" out victories in Splatoon 2.


KontrolFreek Tempered Glass Screen Protector for Nintendo Switch - The screen protector is designed to keep Switch screens in pristine condition without sacrificing clarity. The 9H rated tempered glass is precision-cut for placement on the Switch and applies easily without distracting air bubbles. It features an oleophobic coating and anti-shatter film for additional protection.


Performance Grips for Nintendo Switch Pro Controller - KontrolFreek's Performance Grips use a combination of advanced materials to give gamers better control, support and comfort during game sessions. They are easy to apply and can be repositioned without leaving a sticky residue.


"Nintendo Switch has taken the gaming industry by storm and will continue to be the hottest gaming device this holiday season, but it's not perfect," said Kelly Eisenberg, Senior Brand Manager at KontrolFreek. "One of the most common critiques we hear from gamers is that the size of the Joy-Con and its analog stick can create an uncomfortable experience after playing games for multiple hours. Turbo and other products in our Switch line were designed to address that critique and are the perfect pieces of gear for all Nintendo fans this fall."

These new KontrolFreek items will be available in late October. Will you be pre-ordering them or picking them up once they are available in stores? Tell us what you think below.