Reviews: You will die a lot going through Cuphead but it makes the victories you do get that much sweeter.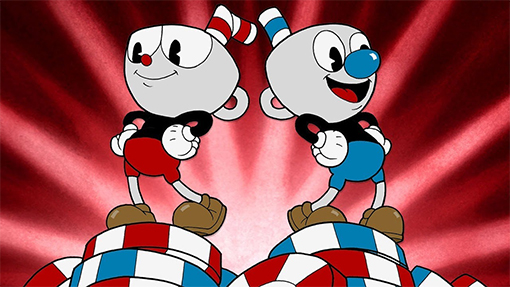 It's been years now since Cuphead made it's debut among a montage of other independent games. Immediately my reaction to that short clip was "...wait a minute go back to that old cartoon game! I want to see more of that." That's a theme that persisted through not only all the preview coverage before release but also amid every step of my progression in the game. With every new attack or concept a boss battle would introduce, every victory and even every failure I was hungry to see what was next.
As a kid I remember we had these VHS tapes with hours and hours of what was sometimes the weirdest selection of really old cartoons. They were striking and sometimes kind of creepy and that's the vibe that Cuphead manages to nail so completely and perfectly that if I wasn't playing it myself I could easily believe that it was an actual cartoon from the 1930's. The film grain overlay, the white noise amidst muffled voices and sound effects and the way animations loop all channel that era of animated cartoons perfectly. Cuphead has style for days and provides one of the key reasons I wanted to keep pushing forward to each successive battle. Thanks to the creativity in the designs and the way they morph over the course of each fight I felt I was being treated to a nonstop feast of new and interesting things to look at. Cuphead doesn't look like any other video game out there and does it's source inspiration beautiful justice in style and tone.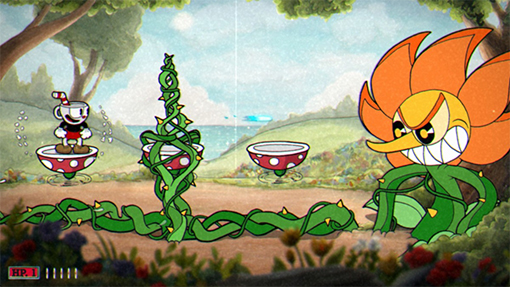 Now, Cuphead and his pal Mugman they, like to roll the dice. Problem is they decided to play in the Devil's Casino and after losing an ill advised bet with their soul on the line they're forced to go collect the contracts of other debtors to the evil casino master. It's a perfectly suitable premise for a 30's cartoon and makes full use of it to dazzle with some of the most interesting boss designs I've seen in a videogame. You'll travel across three different Isles before the finale each with it's own set of boss battles and Run & Gun stages.
While most of the game is essentially boss fights that each have their own unique concepts and personality it's broken up somewhat by several Run and Gun stages that play exactly like it sounds. You'll shift from a single fights to a small set of side-scrolling platforming stages that each bring something unique to the table. Like the boss fights proper you're going to fail at these several times before you get to the end but you'll earn coins along the way that can be used to buy upgrades and mods to your abilities in the shop. Trying different combinations of these abilities not only mix up the core gameplay just enough without breaking it but will also make it easier to get through certain fights as certain bosses will be more susceptible to some abilities over others. It's a smart way to add a few layers to a move set that might otherwise look a bit limited if still effective.
There's a deceptive simplicity to the design of Cuphead that follows a tenet of "easy to learn but difficult to master" that so often provides the sort of accessibility to be inviting yet also a skill ceiling that ensures that there's always room to do a little bit better. Now, don't let my use of the word accessibility distract from the fact the game is difficult. Cuphead is going to kick your ass and it's going to do it over and over and over again. The thing is though, you're going to like it. The worst mistake the player can make is to let that inevitable failure frustrate, intimidate or deter you from pressing on. You're going to die. A lot. That's part of the process though and with every death you learn something. If you really get stuck you can try the battle in Simple mode which will effectively turn off many elements of the regular battle. The number of things on screen will be reduced and it will give you a chance to learn the most basic parts of the fight but keep in mind that this should be seen as a practice mode only. You'll miss out on whole phases of the battle and most importantly you won't get the contracts you need in order to get to the finale. You'll need every single one of them so while you can progress to the next isle by only finishing it in simple mode, you should only do so with the intention to come back after you beat one or two others. The best part about the battles in Cuphead is that your foe will morph and change over time through phases in which it changes it's appearance, abilities and attack patterns. Not only is this a treat visually thanks to the stunning 30's inspired designs and animations but it's also the chance to learn something new about each boss. Each time you die you'll learn to look out for something different, or execute your attacks, evasions and strategies a little bit better. Even when you finally get your well earned knockout you'll be treated to a grading screen that seems to say, "alright, good job but the thing is...you can do better. Here's where you should improve." You're given a letter grade and scored on a set of easy to understand criteria that constantly encourages replay. This style of grading makes me really wish there was a leaderboard system that would let me see my friends report cards and give me even more incentive to go back and best them. While the game seems tough from the start it feels less so as you go back to the earlier bosses. It struck me that while the fights in the game may be getting more difficult as you progress I didn't really notice because I was getting better along with it.
Cuphead is a beautiful marriage of incredible art and brilliant game design. It's punishing difficulty masks a simplicity in design that leads to a loop of you wanting to give that fight just one more try until you manage to get a set of well earned victories. Amongst a sea of quality indie titles in 2017, Cuphead still manages to stand out not just for it's striking visuals and difficulty but for it's ability to coax out persistence and determination you might not have thought you had. Cuphead is tough but fair and absolutely shouldn't be missed.