Reviews: The flagship Xbox race sim sets a new lap time with an expanded set of cars, tracks and features.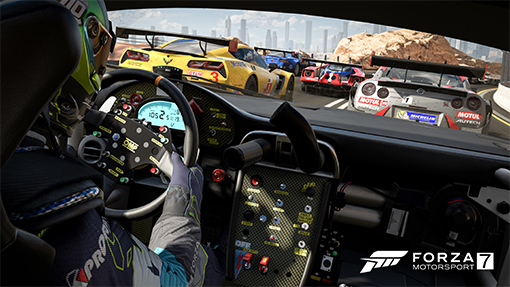 There have been annual installments to the Forza franchise for several years now and each one has managed to make enough changes and improvements to not only justify them as legitimate sequels but also make me wonder what they could do next. Forza 7 ticks all the boxes for having more cars, more tracks and new features but it's probably the reworked career mode and dynamic weather that stand out as the most fundamental improvements to the already excellent Forza 6.
There's never been a shortage of career events to tackle in the Forza games but up until now there has been lack of structured progression in favor of something a bit more free form and nebulous. That changes with Forza 7 as the new career mode called the Forza Drivers Cup that gives a clear set of goals to accomplish on your way to becoming a better and more versatile driver. There are 6 successive championship blocks in which to compete. Each has it's own set of races and showcase events that will net you SP used to unlock the next championship in the series. There's a good mix of event types and styles of cars to choose from for each leg of the career so you won't be locked out of all the best cars until the end of the career. That doesn't mean you won't have to earn them however and that's perhaps the most meaningful and compelling change in the overall structure of single player. In the last few Motorsport games every car was unlocked from the beginning and so if you had the credits you could have the car no questions asked. This time out there's a car collection mechanic with a tier system that boosts a little bit with every car you own. Each car has a rarity and collection score value that will feed into your overall collectors tier level. The higher your collectors tier, the better rewards you'll get every time you level up. This replaces the wheel spin rewards and gives the player more agency to choose whether they want credits, a free or deeply discounted car or some new driver gear. The next set of rewards is always visible both from the main menu and after each race so it's a system that made me stop and think about whether I wanted to do another race to earn one of the current rewards or buy some cars to boost my collection tier and change my next set of rewards to something better. These systems create a series of carrots to chase that have not been present in previous Forza careers and it creates a loop that has kept me locked in for longer sessions than ever before.
The changes to career are made more meaningful thanks to an in game economy that has been totally reworked. Credits are no longer awarded based on the assists you turn off but are instead awarded according to drivatar difficulty and race length. Payouts can be augmented further with mod cards that have also seen a face lift over Forza 6. The change is subtle but the cards have been simplified and all have a set number of uses that had me swapping them in and out and buying crates of new mods in order to continually boost my winnings. As somebody that pretty much ignored the mod system previously I found it to be useful and fun to pick through what I had on hand to compound my winnings. It's not a system you have to engage with if you don't want to but being able to play around with them while the track loads makes it a very low barrier of entry and can be a good way to challenge yourself to learn a new discipline or just get rewarded for things you're already doing. I was constantly given incentive to earn as many credits as I could because it just feels like there's more things to spend money on this time out. Instead of hoarding credits like I have in previous games to the effect of having a bankroll of millions that I didn't actually want to spend on anything I've been in a constant flux of saving and spending for things like discounted cars, reward crates that give you a chance at valuable cars that might not yet be available for purchase, new race suits and new mods. Almost all of these things feed back into a loop of increasingly better rewards and higher payouts and it's an addictive cycle that ensures you always have a set of small goals to work toward.
The way systems are intertwined feel like they're designed to constantly challenge you into being a better driver. It doesn't ever feel like it specifically punishes you for playing the way you like but nudges you towards trying things outside your comfort zone and then rewards you for doing so. You'll never be docked credits for turning down the drivatar difficulty below average or for using a braking line. As somebody that typically plays without assists for that very reason I was more ready to turn on a brake line or stability management for car types I'm less familiar with. You can now change assists on the fly in the middle of a race and you can do this at any time provided there isn't an active mod specifically prohibiting you from doing so.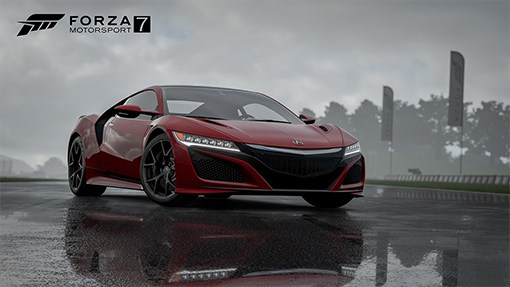 Inclement weather was among the most meaningful changes in Forza 6 and it's a feature that's been fully realized in Forza 7. For the first time ever in the Motorsport series, driving conditions can be different every time you visit the track and will change dynamically over the course of the race. The race might start out foggy and overcast only for the rain to start halfway or three quarters of the way through. Sometimes it lets up before the end and sometimes it doesn't. The way you handle the track will have to adapt accordingly as trying to take the same corner with the kind of liberal use of the throttle you used 3 laps back is more likely to send you into the grass or a tire wall once the rain starts. It's worth noting that not every one of the 32 tracks supports this dynamic weather to the same degree and so you won't see thunderstorms on desert tracks like Dubai or up in the mountains of the Bernese Alps. There's still no shortage of variables across most tracks and so every visit to every location feels special and is beautiful in some way. The one caveat to this is that track side trees look like cardboard cutouts. In most tracks it's not something that stands out as you're typically more focused on the track and cars ahead of you but it really stuck out to me on Maple Valley which makes it's return to the franchise for the first time in years. It's a shame given how heavily trees are featured in the fan favorite track that they look so 2 dimensional especially in contrast to a game that otherwise looks incredible. The changing conditions of the sky provide all types of lighting, coloring and effects on the tracks and cars and it is stunning to watch change over the course of a race. It should come as no surprise that the game does all this while maintaining the same unflinching 60 frames the Forza Motorsport is known for. The sound design maintains the same level of fidelity as the visuals and I was delighted by some of the subtle upgrades to location specific effects. Engines will reverb against nearby walls in a way that let's you almost feel how close you are. From the guttural rumbles of American muscle to the high rev whine of a Formula 1 car banging through it's gears on it's way to top speed every single car sounds unique and is an integral part of it's personality. Even more impressive is if you get a little too far off the track your wheels will pick up pieces of dirt that it will fling up into the wheel wells on the cars that have them when you get back on the track and back up to speed. This is location specific too so with a good set of headphones or a 5.1 system you'll notice that if only your right wheels went off track you'll hear the effect in the appropriate way.
Turn 10 has once again set a new bar for itself in terms of race variety, career structure and visual & audio fidelity. A reworked reward structure and on the fly assist changes have given players a set of tools to not only make it easier to learn to drive better at their own pace and rewards them for doing so. Forza Motorsport 7 being a more scalable experience than ever means that none of the depth is sacrificed in favor of being accessible however. If you want to turn every race into a punishing 20 or 30 lap endurance test against pro drivatars you can do that and you'll be rewarded accordingly. The very same race can be a 5-10 minute experience or 40-50 depending on the race length you decide to go with.
Driving is universal. It's something virtually everyone understands. Car culture is something that is deeply rooted in nations the world over and it feels like the folks at Turn 10 understand and exemplify this in a way that comes through in their games. Whether you're an artist, a tinkering perfectionist, serious competitor or somebody that just loves the beauty of human engineering there is a place for you in car culture and a reason to like Forza Motorsport.