News: A new game is now available on Valve's popular platform that is set in an alternate New York but deals with some real problems.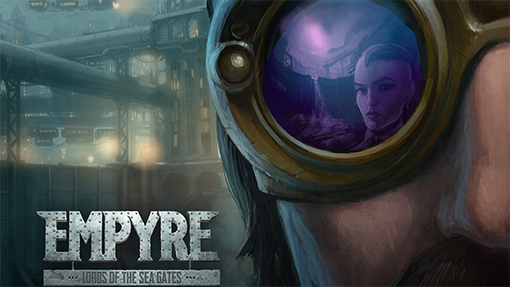 Empyre is now out on Steam from Coin Operated Games. A Neo-Victorian RPG, Empyre is a top-down isometric game that takes place in an alternate industrial New York circa 1911. It features an original story penned by renowned writer/comic artist Paul Noth, a staff cartoonist for the New Yorker magazine where his work has regularly appeared since 2004.

Empyre: Lords of the Sea Gates depicts a troubled New York in which the entire city is flooded by rising oceans and the citizens now face a new threat: the fresh water pipes have stopped and there is no water to drink. Following the collapse of governments when the waters began to rise, New Yorkers found themselves in a temporary period of anarchy and chaos before more localized groups began to take control and form smaller city-states that they ruled with complete authority. Led by pirates, mafia families and a renegade Prussian naval commander to name a few, these warring city-states provide a violent and colorful cast of characters to meet and fight with/against as players seek to solve the water crisis facing the city.

Although set in a fictional, alternate history the game also authentically reflects scenes and locations from New York circa 1900, while tying the storyline to current day themes such as global warming and the rising of the oceans. Players will experience an early 20th century version of New York built upon the ruins of the submerged "old city" and plagued by warring city-states.

The game's combat will feel familiar to veteran RPG players, however there is a new twist in that the game uses a hybrid Real Time/Turn-based combat system. Players can enter a "Planning Mode" where they choose actions for each character in their party to plan their strategies while combat is paused. When entering into the "Action Mode" all characters will perform simultaneously, giving players complete control over their party while presenting a streamlined combat system that allows players to be as strategic, or direct, as they choose.

"We are beyond thrilled to be sharing Empyre: Lords of the Sea Gates with gamers from around the world," said John Randall, Creative Director of Empyre. "We strove to keep our games setting and themes recognizable but unique so that we could really let the story from our fantastic writer, Paul Noth, shine. We can't wait for both old-school gamers looking to relive their 90's RPG experiences and the next generation of gamers to get their hands on the game. We have so many more stories to tell in this alternate reality, this is just our first chapter!"

Empyre: Lords of the Sea Gates is now available on Steam for $29.99. Check out the launch trailer below and tell us what you think. Will you be picking it up?