News: If you want an early look at the new Mario title you might want to try and attend one of these tour stops over the next few weeks.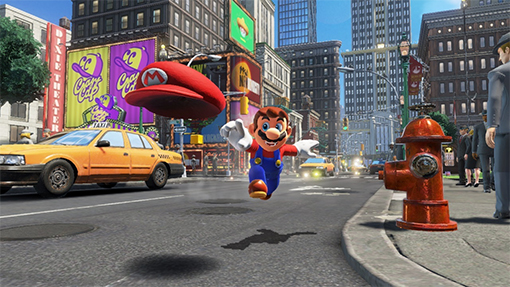 Super Mario Odyssey will arrive later this month on the Nintendo Switch. Leading up to that release though Mario will be touring the country to give gamers a sneak peek and a chance to play the game before it arrives in stores. By visiting one of the many stops on his journey, fans will have the chance to meet the Mario costumed character, take photos with him and his amazing decked-out trailer, and get hands-on time with Super Mario Odyssey on Nintendo Switch.

For the first time, the costumed character will even include Cappy, Mario's new companion in Super Mario Odyssey who enables him to capture various objects, animals and enemies. Cappy also gives Mario new moves like cap throw, cap jump and capture, which define this new adventure and provide a fresh take on the classic Super Mario formula.

Mario will travel in style in a custom trailer featuring Super Mario Odyssey artwork, including a giant inflatable Cappy. At the scheduled stops noted below, fans can visit the trailer, take the Nintendo Switch game for a spin and even snap a memorable photo with Mario and his trailer.

"Super Mario Odyssey is all about travel, exploration and that feeling you get when you discover something new and exciting," said Reggie Fils-Aime, Nintendo of America's President and COO. "Mario's interactive journey in the real world is a great way for fans to get excited for the game's launch by getting hands-on time, as well as following Mario as he explores and discovers locations all across the country."

Mario will be making five major stops across the country that fans can visit, but he will also be making some stops to sightsee and take photos, just like any tourist … who also happens to regularly travel through giant warp pipes. Each of these special stops on Mario's odyssey will look familiar to anyone who plays Super Mario Odyssey, as they are all inspired by Kingdoms in the game. When he visits big cities, for example, the Metro Kingdom might come to mind, while his stop at the beach will remind fans of the scenic Seaside Kingdom (sans Cheep Cheeps, of course). Photos from these locations will be posted on Nintendo's Twitter, Instagram and Tumblr accounts so you can follow along if you want.

The Los Angeles kickoff event will be held at Universal CityWalk, with plenty of opportunities to play the game and take photos with Mario – the only celebrity in the city that knows how to triple jump. The final stop in New York will culminate with an event to celebrate the launch of Super Mario Odyssey. Taking place in Rockefeller Center, next to the Nintendo NY store, the event will feature game-play sampling and photos with Mario, as well as some additional surprises and guests.

Mario, Cappy and the game are scheduled to visit the following locations, which are all open to the public on a first-come, first-served basis.

Los Angeles


Universal CityWalk - 5 Towers


100 Universal City Plaza


Universal City, CA 91608


October 10, 3:30 p.m. to 6:00 p.m.


Dallas


State Fair of Texas - Chevy Park Plaza (enter at gate 11), across from the Chevy Ride & Drive


3921 Martin Luther King Jr. Blvd


Dallas, TX 75210


October 18, 10:00 a.m. to 9:00 p.m.


Chicago


Navy Pier - Polk Bros Park, Navy Pier's front gateway, between Illinois and Grand Avenues


600 E. Grand Ave


Chicago, IL 60611


October 21, 12:00 p.m. to 6:00 p.m.


Philadelphia


Philadelphia Museum of Art - Below the "Rocky Steps"


2600 Benjamin Franklin Parkway


Philadelphia, PA 19130


October 24, 12:00 p.m. to 6:00 p.m.


New York


Rockefeller Center


10 Rockefeller Plaza


New York, NY 10020


October 26, 8:00 p.m. to 10:00 p.m.


In New York, the first 200 people in line will gain access to the event and be the first to purchase the game at midnight. (Sadly, no Goomba stacks will be admitted.) After that, the general public will be able to purchase the game at the Nintendo NY store.

Will you be attending any of these events? Do you plan on picking up Super Mario Odyssey on October 27? Tell us what you think below.